Images of tornado damage in Florida. Courtesy of Florida Memory.
Truly destructive tornadoes are most frequently reported in Florida during the spring and summer; the most powerful usually strike in spring. Florida has the dubious distinction of having a higher frequency of tornadoes per 10,000 square miles than any other state, including Oklahoma! In Florida, measured in frequency of tornadoes for every 10,000 square miles, the coast between Tampa Bay and Fort Myers has a particularly high incidence, as do the western panhandle and parts of the Atlantic Coast.
So, what is a tornado? Simply put, a tornado is a violently rotating column of air that is spawned by a severe thunderstorm. It connects from the thunderstorm to the ground and often appears to have a funnel or column shape. A tornado, one of nature's most violent storms, can develop suddenly, and have winds in excess of 250 mph.
Generally, tornadoes in Florida form
along a squall line ahead of an advancing spring cold front from the North,
along the squall lines in areas where masses of warm air converge,
from isolated local summer thunderstorms, and/or
within a hurricane.
What triggers a tornado is still not altogether clear. Tornadoes spawn inside clouds when there is great turbulence and winds of various speeds and velocities come in contact with one another. Although there is uncertainty about the triggers, meteorologists are able to identify atmospheric conditions conducive to tornadic activity.
The intensity of a tornado can be determined only after the event when survey teams from the National Weather Service can examine structural damage. After the survey is complete, the tornado is given a value from the Fujita Scale. The Fujita Scale was developed by Dr. T. Theodore Fujita and categorizes tornadoes on the basis of their intensity and area. The scale relates a tornado's damage to the fastest quarter-mile wind speed at the height of the damaged structure to determine its intensity. Over the years, problems with the initial Fujita Scale had arisen and in 2007 the new Enhanced Fujita (EF) Scale was adopted. The EF Scale helps determine the intensity of a tornado when there is no structural damage (as can happen when, for example, a tornado passes through a corn field).
ENHANCED FUJITA (EF) SCALE
EF Number
Estimated 3-Second Gust (mph)
Damage
0 (Gale)
65-85
Some damage to chimneys; branches brooken off trees; shallow-rooted trees pushed over; damaged sign boards.
1 (Weak)
86-110
Surfaces peeled off roofs; mobile homes pushed off foundations or overturned; moving autos pushed off roads.
2 (Strong)
111-135
Considerable damage. Roofs torn off frame houses; mobile homes demolished; boxcars pushed over; large trees snapped or uprooted; light object missiles generated.
3 (Severe)
136-165
Roof and some walls torn off well constructed houses; trains overturned; most trees in forests uprooted Well-constructed houses leveled; structures with weak foundations blown off some distance; cars thrown and large missiles generated.
4 (Devastating)
166-200
Well-constructed houses leveled; structures with weak foundations blown off some distance; cars thrown and large missiles generated.
5 (Incredible)
200+
Strong frame houses lifted off foundations and carried considerable distances to disintegrate; automobile sized missiles fly through the air in excess of 100 meters; trees debarked; steel reinforced concrete structures badly damaged.
*Chart summarized from information supplied by the Storm Prediction Center.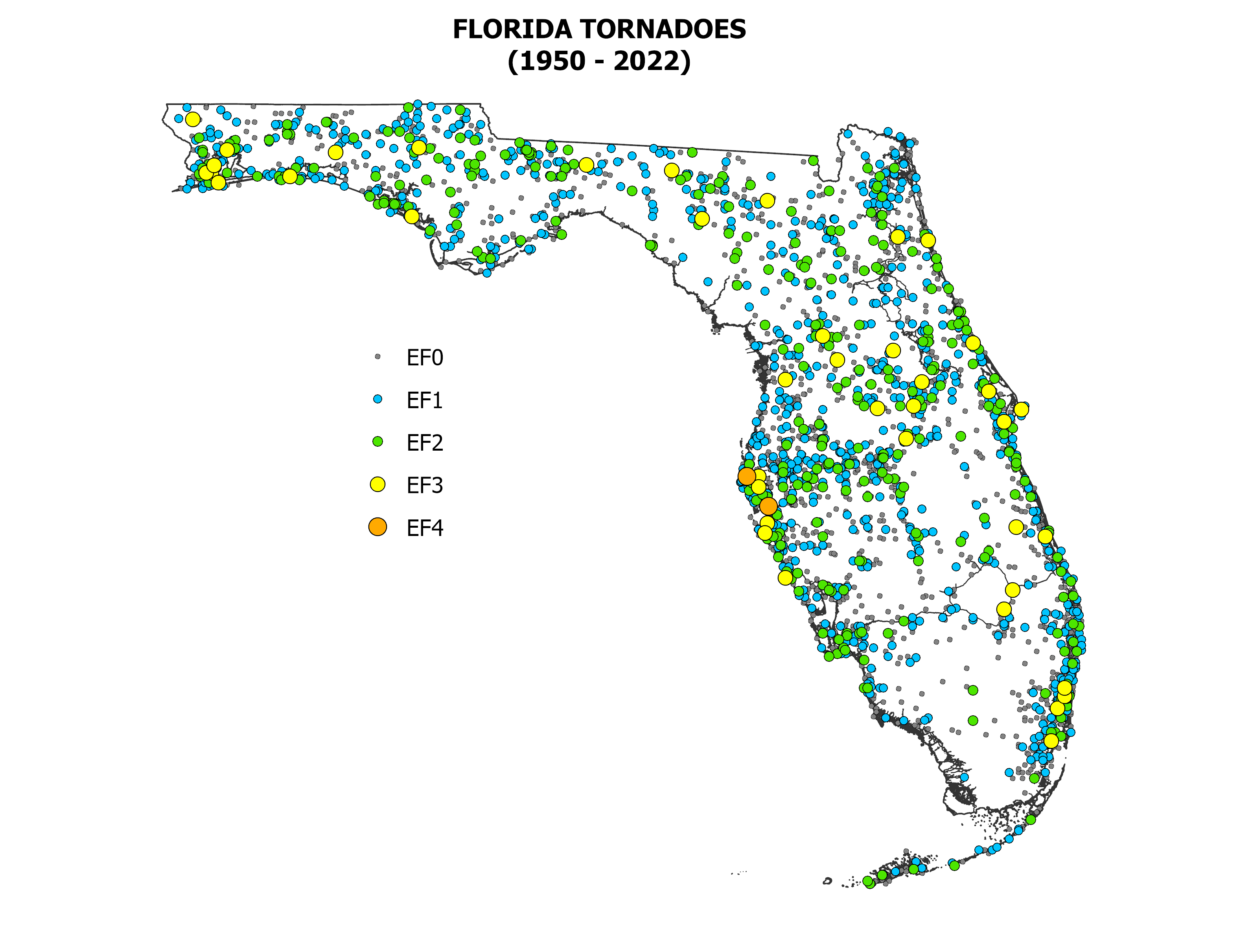 SIGNIFICANT TORNADOES IN HISTORY
Date
Fujita
Killed
Injuries
Information
3/31/2022
3
2
1
An EF3 touched down in Washington County and moved into Jackson County as part of a tri-state area large tornado outbreak across Alabama, Mississippi and the Florida Panhandle. This EF3 tornado destroyed a barn, several homes, and damaged additional manufactured homes and outbuildings. Maximum winds were estimated to be 150 mph. Two fatalities occurred as a result of damages to trailer homes.
3/03/2019
3
0
0
This severe weather event included an outbreak of 13 tornadoes, along with numerous reports of straight-line wind damage and large hail. The deadliest tornado of the outbreak was an EF3, which tracked 6.5 miles across eastern Leon County and into western Jefferson County with maximum winds of 140 mph. The tornado initially touched down near the intersection of US-90 and Crump Road in eastern Leon County. The tornado then intensified, completely destroying two homes. It became the second F3 or EF3 tornado, and second strongest tornado, to impact Leon County since 1945.
2/22/1998
3
25
150
The deadliest tornado of the outbreak was a category F3, that touched down initially 1 mile south of Intercession City. The tornado moved northeast at 45 mph and ripped through the town of Kissimmee killing 25 people. The hardest hit areas were the Morningside Acres mobile home community and the Ponderosa Recreational Vehicle Park. In all 8 people were killed in recreational vehicles, 15 in mobile homes, and 1 in an automobile. The tornado continued northeast and moved into Orange County 6 miles north of St. Cloud. One hundred and fifty people were injured and over 1000 structures were damaged or destroyed.
3/31/1962
3
17
100
Shortly after 9 a.m. on the 31st, a tornado carved an 8-mile path through Santa Rosa County. The hardest hit area was Milton, where 130 homes were demolished in a six-block area, and extensive damage occurred at a mobile home park.
2/22/1998
3
13
36
The tornado initially set down near Longwood and moved northeast at 45 mph. The tornado passed through several neighborhoods in the southeast portion of Sanford, killing 12 people in mobile homes and injuring 70. It continued northeast and crossed into Volusia County 5 miles east of Sanford. The near 200 mph winds of the tornado damaged or destroyed 625 structures.
2/2/2007
3
13
51
The storm that produced the Lady Lake tornado re-intensified and produced a second F3 tornado in a rural area to the west-southwest of Paisley. The tornado moved east-northeast at over 50 mph toward the Lake Mack area just west of the St. Johns river. The tornado produced a ¼-mile-wide track across the Lake Mack area, destroying 86 residences and damaging 144. Many mobile homes were completely destroyed. Thirteen people died in mobile homes.
4/4/1966
4
11
530
A tornado began near Clearwater, moved across North Tampa Bay, through Carrollwood, and Temple Terrace,and then headed east-northeast to Gibsonia, Loughman, Campbell City, and Merritt Island. There is strong evidence that this tornado was on the ground from the Gulf of Mexico to the Atlantic Ocean. The greatest damage was reported from Carrollwood to Gibsonia, where numerous houses and businesses were either damaged or destroyed.
2/2/2007
3
8
25
The tornado first touched down near the southeast corner of The Villages south of Lake Miona and moved rapidly to the east-northeast at 55 mph into Lake County. A FEMA report to Sumter County emergency management officials detailed damage to 1,145 homes, with 200 destroyed during the 6 minutes the tornado was on the ground. Then, the tornado that moved out of Sumter County and crossed into Lake County just west of Lady Lake. The ¼-mile-wide F3 tornado moved across the Lady Lake area, killing 8 people and injuring 10. The tornado damaged 180 residences and destroyed 101. All of the fatalities occurred in mobile homes. Moving east-northeast at 50 MPH, the tornado lifted near Emerald Marsh Lake.
4/19/1988
3
4
18
A tornado moved from just southwest of Madison to 11 miles east-northeast of Madison. Seventeen homes were destroyed and more than 30 homes were damaged. Some commercial buildings were either destroyed or damaged. At North Florida Junior College, 3 buildings were destroyed and 9 were damaged.
5/4/1978
3
3
94
A tornado struck the High Point section of northeastern Pinellas County; destroying 6 rooms of High Point Elementary and damaging many others. Teachers and students were buried under the debris. The 3 deaths and most of the injured from this tornado were from the elementary school. A trailer park across the street from the school also sustained damage and injuries were reported.
2/7/1971
3
0
112
A pre-dawn waterspout/tornado destroyed an expensive apartment complex in Gulf Breeze.
6/17/1959
3
0
74
Around 9:50 P.M, a tornado touched down in Coral Gables, moved over the Miami business district and Biscayne Bay, and impacted the Sunny Isles area. Most of the injuries were from flying and broken glass.
*Chart summarized from information supplied by the National Climatic Data Center.