Prepared by Melissa Griffin and David F. Zierden.
Florida Climate Center
The Florida State University
Tallahassee, FL

Average temperatures varied across the state in September. The departures for average temperatures in September 2014 varied across the entire state, though most of the reporting stations saw average temperatures near normal. The departures ranged from -1.1˚F in Fort Myers to 1.5˚F at Tallahassee. (Table 1 and Appendix 1). Chipley reported 98˚F on the 1st, the highest temperature in Florida for the month; while the lowest minimum temperature recorded in the state was 56˚F in Crestview on the 26th. Of interest this month was the cool temperatures that impacted portions of the Panhandle on the 25th and 26th, with multiple locations struggling to get to a high of 70˚F. Despite the fall like weather, many stations saw at least on day of maximum temperatures at or above 90˚F. Multiple temperature records were tied or broken across the state in September (Appendix 2).
Table 1: September average temperatures and departures from normal (˚F) for selected cities.
Rainfall totals varied across the state in September. Portions of the Florida Peninsula reported monthly rainfall totals well above normal, while most of the rest of Florida saw below average rainfall during September (Figure 1). Departures from normal roughly ranged from -2.61" to 4.89" (Table 2 and Appendix 1), though localized parts of Florida saw rainfall totals that were as much as 5.00" below normal to over 8.00" above normal (Figure 1). September 2014 was the wettest in Daytona Beach (18.51") in the 91 years records have been kept at the station. Miami, West Palm Beach and Vero Beach all reported 22 days in the month with measurable (>=0.01") rainfall; while Orlando had 20 days, Fort Myers had 19 days and Tampa recorded 16 days during September. There were multiple 24-hour precipitation records broken for the month (Table 3).
Table 2: September precipitation totals and departures from normal (inches) for select cities.
Table 3: Select daily rainfall records (inches) broken during September (compiled from NOAA, NWS).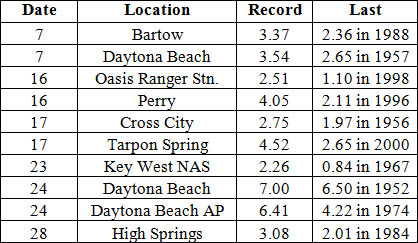 Figure 1: A graphical depiction of the monthly rainfall departure from normal (inches) for September is given in the figure below (courtesy of NOAA, NWS).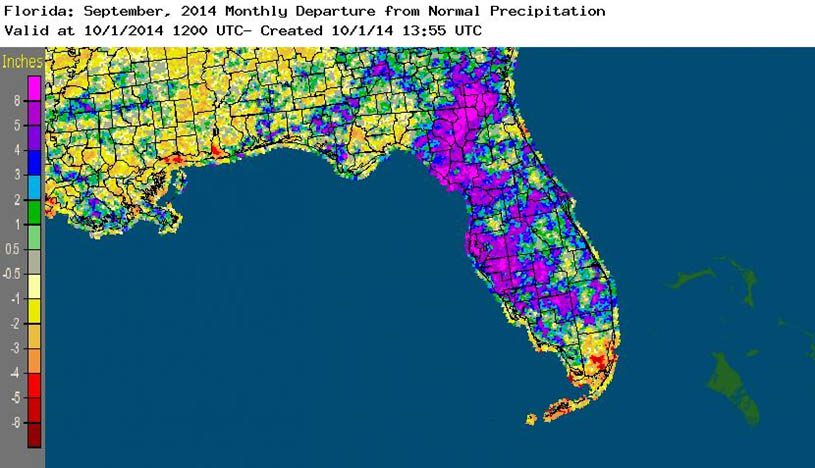 ENSO-Neutral Conditions Continue in the Pacific.
Based on current data and forecast models, the Climate Prediction Center (CPC) continue to have an El Niño Watch in place. Though Neutral ENSO conditions continue to be reported, though positive sea surface temperatures (SST) anomalies have been recorded across the entire Pacific Ocean. The chances of an El Niño event have decreased to about 60 – 65% during the Northern Hemisphere fall and early winter. CPC predicts above normal temperatures and above normal precipitation across the state through December 2014.
Hazardous Weather Events in September.
There were a total of 151 severe weather reports made in Florida during September. On Labor Day, September 1st, a 65-year old male from Louisiana drowned after he was pulled out into the Gulf of Mexico by rip currents in Navarre, FL. On the evening of the 1st, multiple reports of a funnel cloud and waterspout were made by spotters and the general public in the Tampa area. Heavy rains and high winds were reported at numerous locations near the Space Coast on the 5th, while heavy rains on the 6th, over 10" in 24-hours, caused a retention pond failure in Lake City that resulted in several homes to be flooded. Also on the 6th, a landscape worked was injured after being struck by lightning in Cooper City, FL. Additional rainfall on the 7th exacerbated flooding problems in Lake City, as many streets became impassable and residents in some neighborhoods used canoes and kayaks to evacuate. Lightning started a house fire near Pensacola, FL on the 8th. On the 9th, a spotter reported a well-formed waterspout near Islamorada, which lasted for more than 10 minutes and another waterspout was reported in Tampa Bay, near MacDill AFB, on the 11th. From the 13th – 14th, high winds (gusts to 50 mph), reports of funnel clouds and heavy rains were seen along the Florida Keys, and portions of the Gold Coast as a Tropical Wave impacted the area. The public reported several large waterspouts near Santa Rosa Sound and Navarre Beach, and heavy rains were recorded in Jacksonville and Vernon, FL on the 16th. Thunderstorms on the evening of the 18th knocked down power lines and trees in Marion and Putnam counties. A vigorous cold front moved through the northern part of the state on the 21st, before stalling out in central Florida. The stationary front remained in place across the peninsula until the 27th, when a new stationary front formed along the Big Bend and stayed put through the end of the month. During this time, there were multiple reports of high winds, heavy rains and flooding across the Peninsula. Areas around Miami, Palm Coast and Tampa were especially hard hit with torrential rains. Tampa recorded the same amount of rain, if not more, in the two-week period from September 14th – 27th, than was seen during the summer (June 1st – August 31st).
Table 4: Breakdown of storm reports submitted in Florida during the month of September (Compiled from Southeast Regional Climate Center.)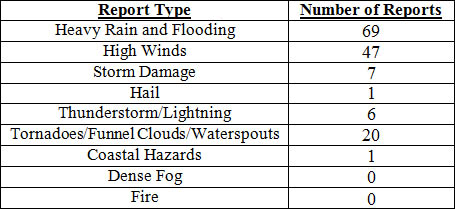 Agricultural and other climate related impacts.
At the beginning of September, topsoil and subsoil moisture levels across the state were running more than 68% adequate and about 16% at surplus. Drought conditions were placing stress on corn, soybeans, and peanuts in the Panhandle, and Armyworms were still a problem in the same area. Peanut conditions were mainly fair (31%) to good (56%), as hay, corn, soybeans and peanuts were being harvested. Palm Beach County began prepping fields for sugarcane planting. Cattle were stressed from the temperatures, with daytime highs in the mid to upper 90s. Cotton in the northern part of the state was in fair condition, though some fields showed signs of disease. By mid-month, spotted wilt was reported on peanuts in Santa Rosa County and the peanut/cotton crops were delayed due to drought and pest pressure. Pastures in Santa Rosa and Washington counties showed signs of drought stress, and pastures in southwest Florida began to decline seasonally as grasses matured. Areas in southwest Florida prepared land for planting of fall vegetables. At month's end, soil moisture levels were up, though areas in the northern part of the state were still dealing with drought conditions. Stem maggots had taken over, while the Armyworms were gone. Peanut quality declined due to weather, disease and pest. Some south Florida fields were under water and planting of fall vegetables had been disrupted. The citrus area had received widespread rain throughout the month, and growers were mowing, irrigating, and treating trees with greening and caring for resets on next season's crop.
Due to the lack of rainfall through August, deteriorating conditions in portions of Gadsden, Jefferson, Leon and Wakulla counties prompted moderate (D1) drought conditions to be introduced, while the area of abnormally dry (D0) conditions in Panhandle and Big Bend grew to portions of the Suwannee River watershed. After the first week in September, that area of D0 was expanded to cover all of the counties in the western Panhandle, and D1 was mentioned in Madison and Taylor counties. The lack of summer rains along the west coast caused the D0 to be introduced into portions of Hillsborough, Manatee, Pinellas, and Sarasota counties and by mid-month this area of D0 was increased into western Desoto, Hardee and Polk counties. Some rainfall in North Florida eased the dry conditions in Baker, Columbia, Hamilton, and Nassau counties. By the end of the month, D1 conditions had been removed from eastern Big Bend counties (Madison and Taylor counties) but introduced in Franklin, Jackson and Liberty counties, and rainfall late in the month will prompt the removal of the dry conditions from the west coast and central Florida. Rainfall across the peninsula kept drought conditions in check during the month of September and Lake Okeechobee reported a lake level above 15 ft., well within normal range.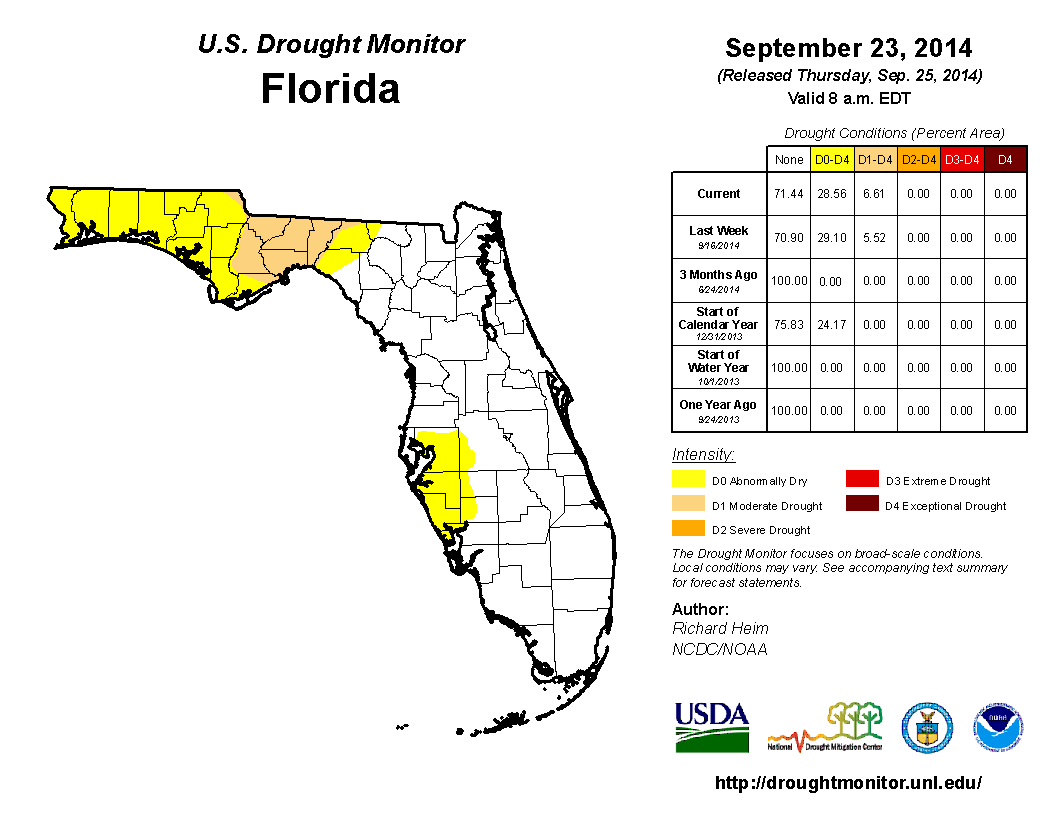 Appendix 1: Additional September departures from normal data for Florida locations.

Appendix 2: Select daily maximum and minimum temperature records (° F) tied or broken during September (compiled from NOAA, NWS).