Prepared by Lydia Stefanova, Daniel J. Brouillette, and David F. Zierden.
Florida Climate Center
The Florida State University
Tallahassee, FL

Average temperatures in October were above normal for most of the state. The departures from average temperatures in October 2017 were above normal across most of the state, ranging from -1.0˚F in Fort Lauderdale to 3.9˚F in Pensacola (Table 1 and Appendix 1). Despite the above-normal average temperatures, a strong cold front on the 28th and 29th of the month brought significantly lower temperatures, with overnight lows in some locations in the panhandle as well as some interior locations in the northern part of the peninsula dipping into the mid-30s. October 2017 was the 5th warmest on record in Miami, and 8th warmest in Tampa. A number of temperature records were tied or broken across the state (Appendix 2).    
Table 1: October average temperatures and departures from normal (˚F) for selected cities.

Rainfall totals in October were mixed across the state. Rainfall totals in October 2017 were above normal in the eastern part of the Florida Peninsula and in the extreme western part of the Panhandle, and below normal in the remainder of the state (Figure 1). Departures from normal roughly ranged from -1.31" in Gainesville to 8.38" in Melbourne (Table 2 and Appendix 1), though localized parts of the state saw rainfall totals that were as much as 3.00" below normal to more than 8.00" above normal (Figure 1). Significant rainfall amounts in South Florida were associated with tropical storm Philippe near the end of the month, with localized daily totals exceeding 8 inches reported in several locations in Palm Beach County. A small number of 24-hour precipitation records broken for the month (Table 3).
Table 2: October precipitation totals and departures from normal (inches) for select cities.

Table 3: Select daily rainfall records (inches) broken during October. (Compiled from NOAA, NWS).

Figure 1: A graphical depiction of the monthly rainfall departure from normal (inches) for October is given in the figure below (courtesy of NOAA, NWS)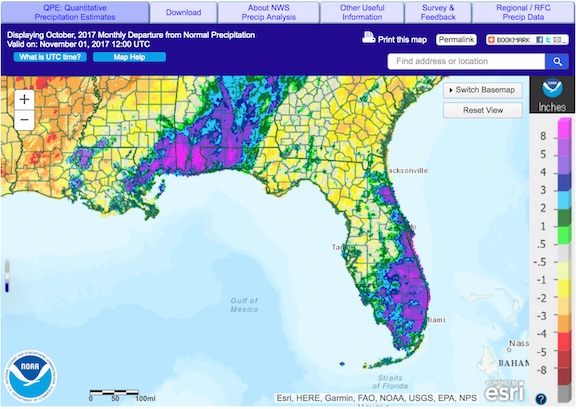 ENSO-Neutral Conditions are Present in the Pacific.   
Based on current data and forecast models, the Climate Prediction Center (CPC) the ENSO alert system status is set to La Niña Watch. ENSO-neutral conditions are currently present, with sea surface temperatures (SST) near- to below-average across the central and eastern Pacific Ocean. Forecast models favor the development of La Niña conditions during the fall and winter of 2017-2018. Taking into account the ENSO forecast and long-term trends, the CPC seasonal outlook favors above-normal temperatures and below-normal precipitation for Florida through January 2018.
Hazardous Weather Events in October.
There were a total of 256 hazardous weather reports issued in Florida in October 2017. Most of these were reports of high winds, mainly in South Florida between the 3rd and 5th of the month, and between the 28th and 29th.  High tides and coastal flooding were observed between the 1st and 7th of the month in Brevard, Broward, Collier, Duval, Flagler, Miami-Dade, Monroe, Palm Beach, Pinellas, and St. Johns Counties. On October 8, as tropical storm Nate made landfall near Biloxi, MS, tropical storm winds and damage to trees and powerlines were reported in Bay, Escambia, Holmes, Okaloosa, Santa Rosa, Walton, and Washington Counties. Storm surge and coastal flooding on that day were seen in Escambia, Gulf, Santa Rosa, and Walton Counties. Tropical storm winds were also reported on October 29th From Key Largo and Miami-Dade. There were four tornadoes observed on that day, one in Miami-Dade and three in Palm Beach County, with some reports of damage to roofs, awnings, and mobile homes. 
Table 4: Breakdown of storm reports submitted in Florida during the month of October (Compiled from Iowa State University/Iowa Environmental Mesonet.)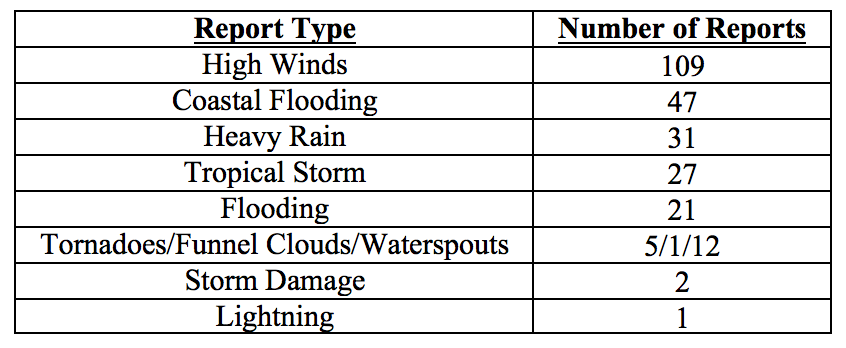 Drought-Related Impacts. 
The state has remained drought-free since the previous month.  At the end of the month, Lake Okeechobee water levels were very high, at 17.01 ft., requiring continuing heavy discharges. As the end of October typically marks the beginning of the dry season, it is expected that water levels in the lake will not peak further. 
Agriculture-Related Impacts. 
Throughout the month topsoil moisture levels were at mainly adequate to surplus, although a few short values were also reported. 
The citrus growing area started the month with continued hurricane cleanup and repairs, and was gradually resuming normal grove operations. Early harvest of oranges, tangerines, and grapefruit for the fresh market has begun. Canals and ditches have sufficient water for irrigation, and irrigation was being run in areas with below-average rainfall. Cattle and started the month in mostly good to fair condition, and have improved as the month went on. Excess moisture has been a problem for fields in the southern portion of the state. With some pastures underwater for a prolonged duration, some producers in Okeechobee County have begun feeding supplements early. Winter pastures are being planted in Jackson County.  Hay cutting was reported in Dixie, Jackson, Osceola and Walton Counties. Heavy rains temporarily delayed sugarcane harvest in Glades, Hendry, and Palm Beach Counties, but the harvest was resumed in the drier parts. Wet conditions have prevented hay cutting in Volusia County, raising concern of potential shortages if conditions fail to improve. Peanut yield and quality has been negatively impacted in Lafayette County by low moisture conditions, and in Dixie, Jackson, Gilchrist, Holmes, Suwannee and Washington Counties by excess moisture Jackson County is reporting low cotton yields and cotton damage from heavy wind and rain was reported in Washington County.
Appendix 1: Additional October departures from normal data for Florida locations.

Appendix 2: Select daily maximum and minimum temperature records (° F) broken during October (compiled from NOAA, NWS).