Prepared by Lydia Stefanova and David F. Zierden.
Florida Climate Center
The Florida State University
Tallahassee, FL

Average temperatures in November were well above normal across most of the state. The departures from average temperatures in November 2015 were well above normal across the entire state, ranging from 3.4˚F in Fort Lauderdale to 9.0˚F in Tallahassee (Table 1 and Appendix 1). Numerous maximum and high minimum temperature records were broken across the state in November, particularly in the early part of the month (Appendix 2). Maximum temperatures over 90˚F were reported in Tampa (92˚F on November 4th, 91˚F on the 5th), Fort Myers (92˚F on the 4th), Orlando (91˚F on the 2nd and 9th), and Jacksonville (91˚F on the 3rd). No minimum temperature records were tied or broken, but several minimum temperatures in the 30's were reported: in Pensacola (35˚F on the 23rd). Tallahassee (38˚F on the 23rd, 34˚F on the 24th), Jacksonville (37˚F on the 23rd), and Gainesville (36˚F on the 23rd). Overall, November 2015 was the warmest on record for Tallahassee and 2nd warmest on record for Tampa, Orlando, Miami, West Palm Beach, and Fort Myers. For nearly all reporting stations across the state, November 2015 was amongst the top five warmest Novembers on record.
Table 1: November average temperatures and departures from normal (˚F) for selected cities.

Rainfall totals were varied across the state in November. The Panhandle and portions of peninsular Florida (particularly areas near Jacksonville and Miami) had well above normal rainfall, while most of coastal peninsular Florida recorded below normal rainfall (Figure 1). Departures from normal roughly ranged from -0.80" to +4.83" (Table 2 and Appendix 1), though localized parts of the state saw rainfall totals that were as much as 2.00" below normal to more than 8.00" above normal (Figure 1). There were several 24-hour precipitation records broken for the month (Table 3).
Table 2: November precipitation totals and departures from normal (inches) for select cities.

Table 3: Select daily rainfall records (inches) broken during November (compiled from NOAA, NWS).

Figure 1: A graphical depiction of the monthly rainfall departure from normal (inches) for November is given in the figure below (courtesy of NOAA, NWS).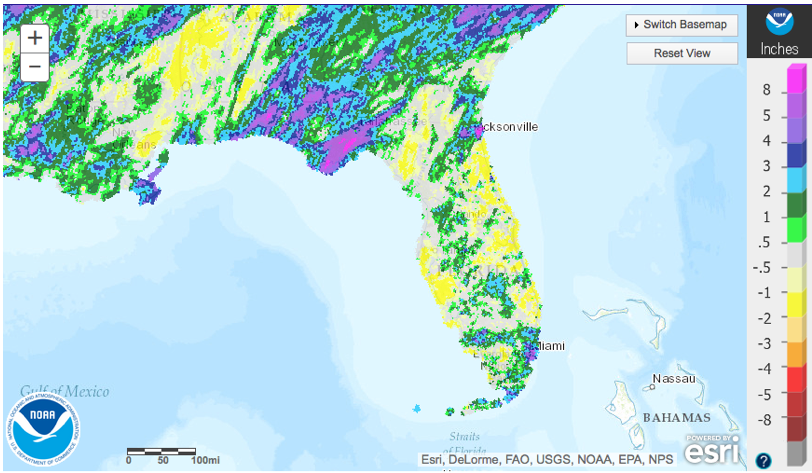 El Niño Conditions are Present in the Pacific.
Based on current data and forecast models, the Climate Prediction Center (CPC) will keep the ENSO Alert System at an El Niño Advisory. El Niño conditions are present, and positive equatorial sea surface temperatures (SST) anomalies continue across most of the Pacific Ocean. According to the CPC El Niño conditions will continue through the Northern Hemisphere winter 2015-2016, gradually weakening through spring or early summer 2016. CPC predicts above normal temperatures for most of the state, and above normal precipitation across the state for December, followed by below-normal temperatures accompanied with above-normal precipitation for the remainder of the winter season. This El Niño remains very strong, on par with the landmark El Nino's of 1982/1983 and 1997/1998. Such a strong El Niño is sure to disrupt climate and weather patterns across the State throughout the winter and early spring seasons, most notably with frequent storms and rain and cooler temperatures. See this wrap-up of El Niño impacts on Florida on our website: http://climatecenter.fsu.edu/super-el-nino-poised-to-disrupt-weather-patterns.
Hazardous Weather Events in November.
There were a total of 122 severe weather reports made in Florida during November. A stationary front over the Panhandle on November 1st and 2nd brought heavy rain, flooding, high winds and storm damage in Holmes, Jackson, Jefferson, Okaloosa, Walton, and Washington counties, and a tornado touchdown in Washington County. Flash floods associated with this front caused numerous road closures, and several instances of wind damage to structures, downed trees, and damage to power lines were reported throughout the area. A second frontal system swept over the northern portion of the state on November 8th and 9th. Over 30 reports of heavy rain and flooding came in during that period from the Panhandle's Bay, Franklin (Apalachicola), Jackson, Holmes, Liberty, Leon, Washington, and Walton Counties, and about 20 reports of heavy rain and flooding came from Duval County. On Nov 10th two separate funnel clouds were observed in Palm Beach County, but neither touched down, and reports of five waterspouts came from the Lower Florida Keys on November 12th and 13th. On the morning of November 15th multiple reports of heavy rains were made throughout Miami area. Strong winds associated with a passing front were reported on November 18th in Okaloosa and Franklin Counties. Several reports of downed trees and minor damage came in from Okaloosa, Wakulla and Gadsden on that day, and two tornadoes were spotted in Walton County in the early afternoon. Tidal flooding was reported November 25th in Delray Beach from locations in Palm Beach and Miami-Dade and November 26th in Broward County.
Table 4: Breakdown of storm reports submitted in Florida during the month of November (Compiled from Southeast Regional Climate Center.)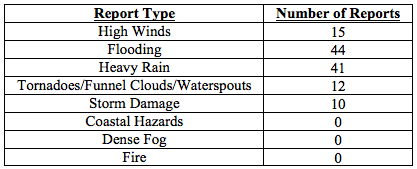 Agriculture Related Impacts.
At the beginning of November, topsoil moisture levels were at predominantly (73%) adequate, though some (18% ) short and a few (8%) surplus values were reported across the state. Heavy rains at the end of October and in early November in Escambia, Holmes, Jackson, Jefferson, Okaloosa, Washington, and Walton delayed harvesting and planting of field crops for much of the month. At the beginning of the month, peanut harvesting had been completed at 94%, ahead of the 5-year average. By the end of the month, the completion was at 98%, behind the 5-year average. The rain in the Panhandle Counties hurt peanut quality. The heavy rains also negatively affected cotton harvest and quality. The combination of rainy and warm conditions in Jackson County caused cotton plants to put out new leaves, delaying the harvest, and some cotton to sprout in the boll in Jefferson County. In Escambia county cotton bales were sitting in ponding water. Soybean harvest was also delayed due to wet conditions. Hay cutting is underway in Orange and Seminole counties, but the quality is poor. Fruit and vegetable crops were irrigated throughout the month. Unseasonably warm weather in the early part of November caused blueberries in Bradford County to flower and produce fruit. Unseasonably warm weather throughout most of the month in southwest Florida caused sunburn on harvested fruit and loss of transplants, along with reduced yields and size of crops being harvested. Windy conditions in Palm Beach County resulted in scaring of tender vegetables such as peppers, eggplant, and tomatoes and twisting off of young seedlings. Livestock and pastures: permanent pastures across the State continued to decline seasonally. Statewide, the cattle condition was mostly good and pasture condition was fair to good. Winter forage benefitted from rains. The citrus growing regions were seeing unseasonably warm temperatures for most of the month, and groves in in the eastern edge of Orange County, nearly all of Osceola County, and the Indian River District were experiencing abnormally dry conditions and required irrigation. Growers have been spraying in attempts to lower the psyllid population to combat citrus greening. Harvest for the fresh market is well underway, with a few processing plants now open to process eliminations.
Drought Related Impacts.
At the end of October, about 10% of the state was experiencing abnormally dry (D0) conditions, and 3.5% of the state was experiencing moderate drought (D1), with most of the D1 conditions limited to portions of Jackson, Gadsden, Leon, and Jefferson counties. Rains in the first two days of the month reduced the drought in the western Panhandle. By November 3d the surface area affected by moderate drought was reduced in size, but the abnormally dry conditions temporarily expanded over the Big Bend region. Abnormally dry conditions were established along the east coast, affecting the entire Brevard and Indian River Counties, and portions of Martin, St Lucie, Osceola, Orange, Seminole, and Volusia Counties. Some expansion of abnormally dry conditions was also seen in Monroe, Collier and Miami-Dade Counties. By mid-month, heavy rains along the Panhandle further reduced the extent of moderate drought conditions, and eased the abnormally dry conditions in much of the Big Bend region that had appeared in the prior week. As of November 24th, moderate drought conditions are eliminated from the Panhandle, and remain only in the extreme southwest part of Miami-Dade County. Based on census data, roughly 227 thousand Florida citizens are currently being impacted by drought conditions, with roughly 17 % of the state experiencing abnormally dry conditions, and less than 0.5% - moderate drought. At the end of the month the water level in Lake Okeechobee was at 14.5 ft.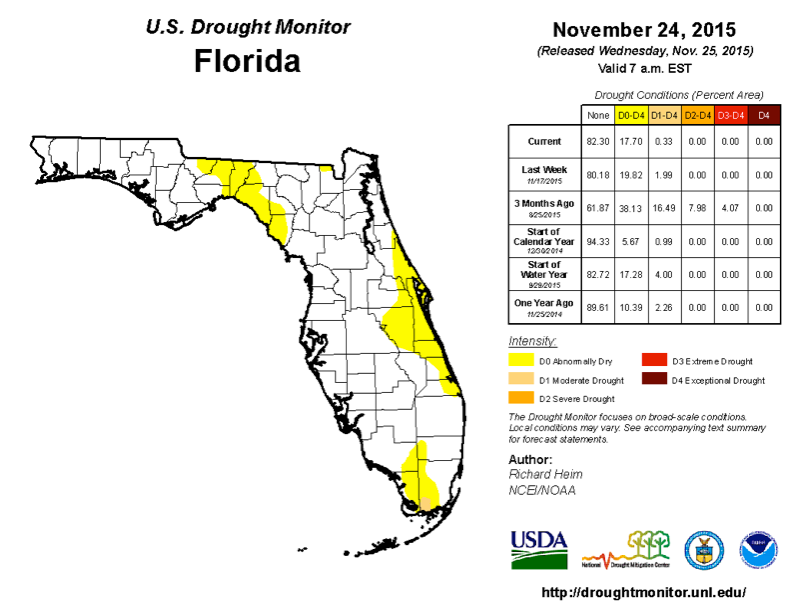 Appendix 1: Additional November departures from normal data for Florida locations.

Appendix 2: Select daily maximum and minimum temperature records (° F) broken during November (compiled from NOAA, NWS). An asterisk indicates a new temperature record for the entire month of November