Prepared by Melissa Griffin and David F. Zierden.
Florida Climate Center
The Florida State University
Tallahassee, FL

Average temperatures were below normal across the state in November. The departures for average temperatures in November 2014 varied across the entire state, though most of the reporting stations saw average temperatures near normal. The departures ranged from -2.3˚F in Miami to -6.0˚F at Pensacola. (Table 1 and Appendix 1). Most stations in the Panhandle, Big Bend and North Florida recorded at least one day with a minimum temperature below freezing (32˚F) during the month. Only one station in the state, Oasis Ranger Station, reported a maximum temperature over 90˚F. November 2014 was the 2nd coldest on record in Gainesville, and the 3rd coldest on record in Jacksonville, Pensacola and Tallahassee. Multiple temperature records were tied or broken across the state in November (Appendix 2).
Table 1: November average temperatures and departures from normal (˚F) for selected cities.

Rainfall totals varied across the state in November. Portions of the Florida Peninsula and Big Bend reported monthly rainfall totals well above normal, while the Panhandle and southeast Florida saw below average rainfall during November (Figure 1). Departures from normal roughly ranged from -3.53" to 3.71" (Table 2 and Appendix 1), though localized parts of Florida saw rainfall totals that were as much as 5.00" below normal to over 8.00" above normal (Figure 1). November 2014 was the 3rd wettest in Ocala, the 4th wettest in Tampa and Daytona Beach, the 5th wettest at Fort Myers and the 10th wettest in Orlando. Daytona Beach reported its 2nd wettest day in November since records started in 1923 on the 26th when 6.45" of rainfall was recorded. There were multiple 24-hour precipitation records broken for the month (Table 3).
Table 2: November precipitation totals and departures from normal (inches) for selected cities.

Table 3: Select daily rainfall records (inches) broken during November. (Compiled from NOAA, NWS)
Figure 1: A graphical depiction of the monthly rainfall departure from normal (inches) for November is given in the figure below (courtesy of NOAA, NWS).
ENSO-Neutral Conditions Continue in the Pacific.
Based on current data and forecast models, the Climate Prediction Center (CPC) continue to have an El Niño Watch in place. Though Neutral ENSO conditions continue to be reported, positive sea surface temperatures (SST) anomalies have been recorded across most of the Pacific Ocean. An El Niño event is favored to develop during the Northern Hemisphere winter. CPC predicts below normal temperatures and above normal precipitation across the state through February 2015.
Hazardous Weather Events in November.
There were a total of 122 severe weather reports made in Florida during November. On the 1st, coastal portions along Duval, Brevard and St. Johns counties reported wind gusts up to 50 mph. The next severe weather day was on the 17th, when a very strong cold front pushed through the state. Storm damage, downed trees and power lines, along with wind gusts up to 60 mph were reported in various locations, such as Panama City Beach, Marianna, Lake City, Jacksonville, Tampa, Cocoa Beach, and Palm Coast. A funnel cloud was witnessed over a community near the University of North Florida in Duval County. Multiple tornadoes were also reported on the 17th. One tornado was spotted by a debris signature via dual-pol radar near Laird, FL (Bay County), and another was reported in Grand Ridge, where mobile homes were blown over. A short track EF0 tornado uprooted trees and destroyed a shed in Sanderson, FL (Baker County). The strongest tornado reported on the 17th was an EF2 that touched down south of Blountstown, FL (Calhoun County). The tornado tracked on the ground for 22-miles and was 400 yards long at its widest point. The Calhoun Correction Institute was one of the hardest hit areas with broken fence lines, flipped cars and damage to concrete buildings. Two people were injured at the facility as they waited in their cars for the storm to pass. As the tornado moved northeast, it destroyed some floating homes, sweeping debris into the Apalachicola River. The tornado finally dissipated near Sycamore, FL (Gadsden County) after being on the ground for nearly 30-minutes. On the afternoon of the 23rd, a strong line of thunderstorms pushed through the Florida Panhandle, causing storm damage in Walton, Washington, Calhoun, Liberty, and Gadsden counties. Heavy rains on the 25th and 26th were reported in numerous locations in Sumter, Volusia, Orange, Brevard, and Marion counties. Parts of Daytona Beach reported flooding over area roads from the intense rainfall.
Table 4: Breakdown of storm reports submitted in Florida during the month of November (Compiled from Southeast Regional Climate Center.)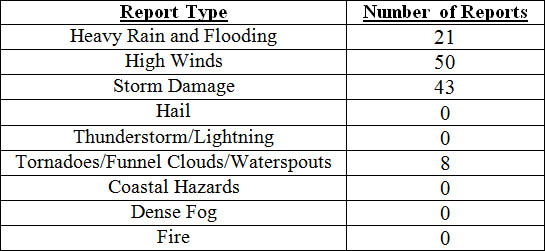 Agricultural and other climate related impacts.
At the beginning of November, topsoil and subsoil moisture levels across the state were running more than 66% adequate and about 6% at surplus. The month started out cooler and drier across the state, allowing for the remaining peanuts to be harvested in the Panhandle and north Florida. In Holmes, Jackson and Walton counties, cotton and soybean harvesting and winter planting of rye grass and oats continued. Sugarcane harvesting progressed in Hendry, Glades and Palm Beach counties, along with a variety of vegetables in Southwest Florida. By mid-month, about 94% of the peanut harvest was completed and cotton and soybean yields were reported to be good to excellent. Cattle conditions were mainly good (74%) to excellent (6%), though there were also reports of fair (19%) conditions. Pasture conditions were fair (33%) to good (56%) as pastures across the state continued the seasonal decline, especially after an early season frost, dry conditions and mole crickets were reported in Duval County. Peanut, cotton and soybean harvests were nearly completed by the end of November. The strawberry harvest began in Hillsborough County, and the vegetable harvest in southwest Florida increased. The heavy rains at the end of the month lead to the further decline of pasture conditions across the state. A strong cold front pushed through the state, and overnight temperatures dropped to the mid 30s and lower 40s in the citrus growing areas. Typical grove activity, including irrigating, mowing, spraying and fertilizing took place in during November. In southern portions of the citrus growing region, old non-productive groves were being pushed and replaced with new plantings.
At the end of October, moderate drought (D1) conditions had been removed from eastern Big Bend counties (Madison and Taylor counties) but introduced in Franklin, Jackson and Liberty counties and much needed rainfall caused the removal of the dry conditions from the west coast and central Florida. November started off very dry for the state, with the first observed rainfall (less than 0.50") coming on the 6th of the month in Miami-Dade County. Because of the continued lack of rainfall in the Panhandle, D1 conditions were added to coastal portions of Escambia, Santa Rosa and Okaloosa counties. Widespread rain along central and south Florida at during the middle of the month, helped keep drought conditions in check. Near the end of the month, heavy rains across portions of the Panhandle and Big Bend reduced the D1 conditions to abnormally dry (D0) in Gadsden, Leon, Jefferson and Wakulla counties. As of December 1st, Lake Okeechobee was at 15.57 ft., and a few river levels are elevated from the rains during the week of Thanksgiving.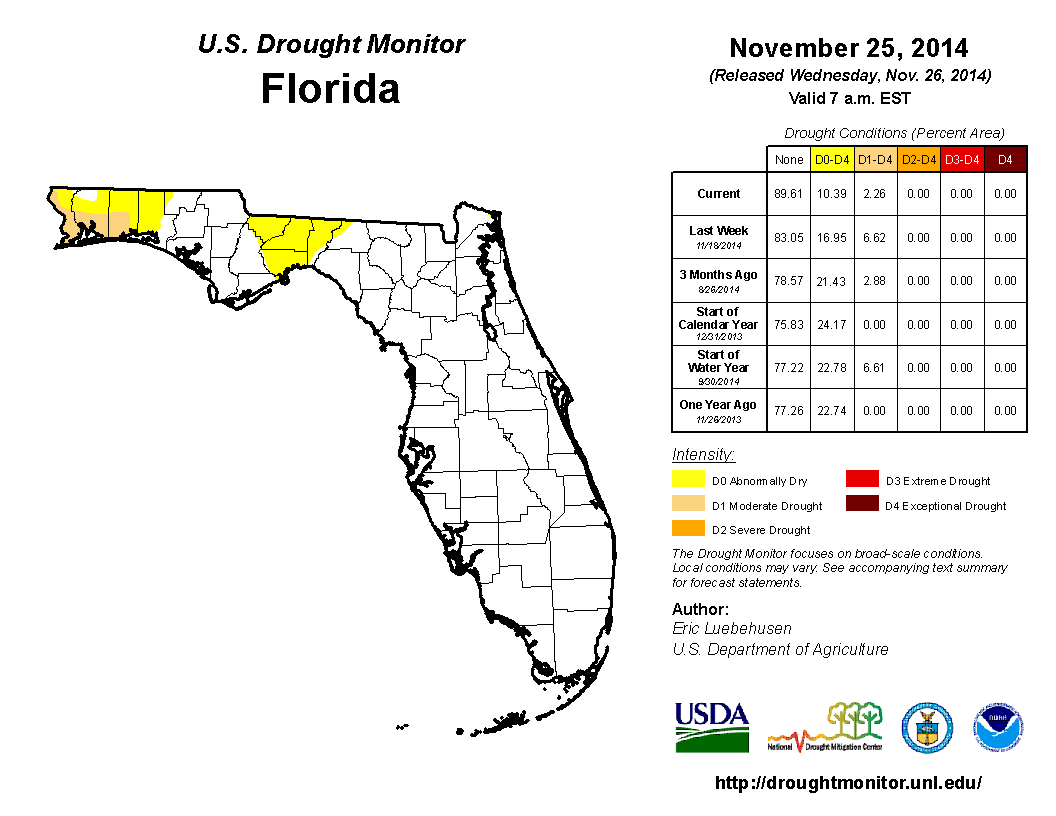 Appendix 1: Additional November Departures from Normal Data for Florida Locations
Appendix 2: Select daily maximum and minimum temperature records (o F) tied or broken during November. (Compiled from NOAA, NWS)