Prepared by Lydia Stefanova, Daniel J. Brouillette, and David F. Zierden.
Florida Climate Center
The Florida State University
Tallahassee, FL

Average temperatures in May were mostly above normal across the state. The departures from average temperatures in May 2017 were above normal for most of the state, ranging from -0.3˚F in Orlando to +2.8˚F in Melbourne (Table 1 and Appendix 1). May 2017 was the 2nd warmest on record in Miami, 4th warmest in Tampa, 6th warmest in Fort Myers, and 7th warmest in Fort Lauderdale. Maximum temperatures at or above 95˚F were observed on several days of the month for many stations across peninsular Florida. A number of warm temperature records were tied or broken across the state (Appendix 2).  
Table 1: May average temperatures and departures from normal (˚F) for selected cities.

Rainfall totals in May were mixed. Rainfall totals in May 2017 were above normal in most of the panhandle and parts of peninsular Florida, and below normal for portions of central and south Florida (Figure 1). Departures from average roughly ranged from -2.65" in Miami to 2.90" in Pensacola (Table 2 and Appendix 1), though localized parts of the state saw rainfall totals that were as much as 5.00" below normal to 8.00" above normal (Figure 1).  A few 24-hour precipitation records were broken for the month (Table 3).
Table 2: May precipitation totals and departures from normal (inches) for select cities.

Table 3: Select daily rainfall records (inches) broken during May. (Compiled from NOAA, NWS).

Figure 1: A graphical depiction of the monthly rainfall departure from normal (inches) for May is given in the figure below (courtesy of NOAA, NWS)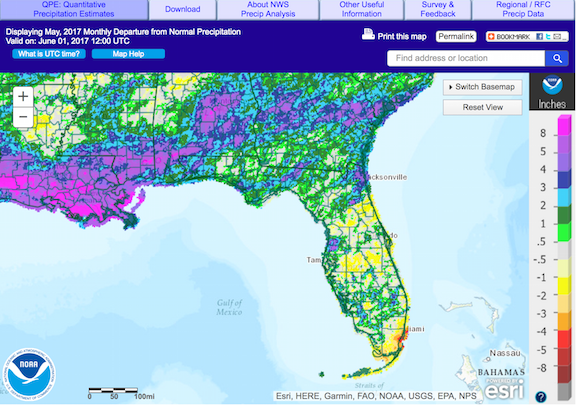 ENSO-Neutral Conditions are Present in the Pacific.   
Based on current data and forecast models, the Climate Prediction Center (CPC) the ENSO alert system is currently set to "Not Active". ENSO-neutral conditions are currently present, with sea surface temperatures (SST) near- to above-average across most of the Pacific Ocean. ENSO-neutral and El Nino conditions are approximately equally favored through summer and fall seasons. The CPC seasonal outlook favors above-normal temperatures for Florida through August 2017.
Hazardous Weather Events in May.
There were a total of 301 hazardous weather reports issued in Florida in May 2017. The majority of reports concerned high winds and storm damage (see Table 4). The first cluster of such reports was associated with a cold front entering the state from the northwest on the 1st and sweeping over the state over the next two days, quickly followed by a second one between the 3rd and 6th. High winds in that time span were reported in Alachua, Bay, Columbia, Duval, Escambia, Franklin, Gilchrist, Hernando, Hillsborough, Jefferson, Levy, Okaloosa, Okeechobee, Pasco, Pinellas, Santa Rosa, Sarasota, St Johns and St Lucie County. Storm damage was reported in a number of these counties, including downed trees and power lines in Duval, Franklin, Jefferson, Levy, Okaloosa, and Santa Rosa County. Hail with diameter of 0.88 inches was seen in Hillsborough County on the 6th. 
On the 12th, a line of strong thunderstorms was observed between DeFuniak Springs in Walton County to Tallahassee in Leon County. Thunderstorm wind gusts of 59mph were measured in Leon County; downed trees and branches and some power outages were reported in Walton, Jackson, Leon and Wakulla Counties. Strong thunderstorm wind gusts up to 49mph were measured in Brevard, Volusia, Duval and St. Johns Counties on the following day. Hernando County reported heavy rain from several home weather stations, with 6-hour accumulations up to 8.7 inches.
Nearly a third (90) of all hazardous weather reports for the month occurred on the 24th, when another strong cold front swept through the state. High winds (both non-thunderstorm and thunderstorm wind gusts) and storm damage (downed trees, some vehicle and minor damage to fences and roofs) were reported across the state, from Pensacola to Jacksonville across the panhandle, and throughout the peninsular portion of the state all the way to Key West. Some heavy rains were observed in Jacksonville and its vicinity. 
Between the 30th and 31st, a low-level trough gave rise to a thunderstorms over the northwest and central portions of the state, with reports of strong thunderstorm winds and storm damage in Alachua, Brevard, Clay, Duval, Flagler, Hillsborough, Nassau, Orange, and St. Johns Counties. Heavy rainfall was observed with some of these thunderstorms.  Two waterspouts were reported during this period, one along the St. Johns River in Clay County, and the other just offshore from Jacksonville Beach in Duval County. There were several reports of hail for this period, in Alachua, Duval, Flagler, Nassau, and St. Johns Counties, with hailstone diameter up to 2 inches. 
A number of waterspouts have been observed throughout the month along the lower Florida Keys, consistent with the typical increase of frequency associated with warm season months. 
Two incidents involving rip currents, with several injuries and one fatality, were reported this month, in West Palm Beach and Jupiter Beach. Another hazardous weather-related injury was reported as the result of a lightning strike in Martin County. 
May has been another active month for wildfires. As of the end of the month, there are 28 active wildfires over 100 acres in the state, mostly in the upper two-thirds of the peninsula. Burn bans are currently in effect in Baker, Brevard, Charlotte, Collier, Columbia, Duval, Desoto, Flagler, Glades, Hendry, Highlands, Hillsborough, Indian River, Lake, Lee, Manatee, Martin, Okeechobee, Orange, Osceola, Palm Beach, Pasco, Pinellas, Polk, Putnam, Sarasota, Seminole, St. Johns, St. Lucie, Sumter, and Volusia Counties.
Table 4: Breakdown of storm reports submitted in Florida during the month of May (Compiled from Southeast Regional Climate Center.)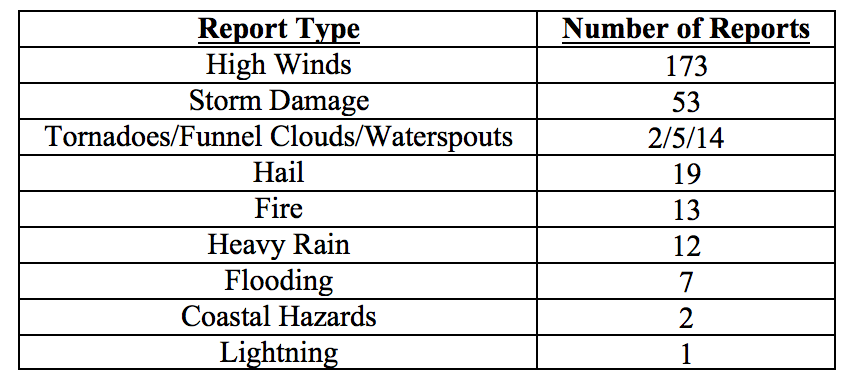 Drought-Related Impacts. 
At the end of April, approximately 23.5% of the state, including most of the southern panhandle and the southeast portion of the peninsula was drought free. As for the remainder of the state, 19% was under abnormally dry conditions (D0), 24% under moderate drought (D1), and 33.5% under severe drought (D2). As the month progressed, drought conditions in most of the affected regions gradually intensified, and extreme drought (D3) conditions were noted in a gradually increasing section of central Florida. As of the latest U. S. Drought Monitor report, issued on May 30, extreme drought (D2) covers 15% of the state, severe drought – 23%, moderate drought – 33%, and 11% is experiencing abnormally dry (D0) conditions. Extreme drought is present in Brevard, Desoto, Glades, Hardee, Okeechobee, Orange, Osceola, Polk, and small parts of Charlotte, Hillsborough, Indian River, Lake, and Manatee Counties. In all, moderate, severe, or extreme drought conditions are currently affecting an estimated 2.7 million Florida residents. At the end of the month, Lake Okeechobee water levels were at 10.95 ft., which is significantly below average for this time of the year, and nearing the level at which water shortage management actions must be taken. 
Agriculture-Related Impacts. 
At the beginning of May, topsoil moisture levels ranged from very short (23%) to short (41%) or adequate (33%). These values fluctuated throughout the month, with a general tendency for drying out. By the end of the month, very short values accounted for 28% of soils, short – for 44% and adequate for 27%. Most of the citrus growing region has been under either severe or extreme drought, and citrus groves were irrigated daily to supply trees with necessary moisture. Ditches and canals were very dry throughout the region due to insufficient rainfall since the beginning of the year. Vegetable season has been winding down, and some crop fields were abandoned due to heavy insect pressure and disease. Pastures have continued to decline with rising temperatures and worsening drought conditions in many areas. Pastures that received rain have improved, but the overall pasture quality across the state has been fair to poor. In many areas supplemental cattle feeding with hay has been needed, and many farmers have been shipping in hay. Cattle have remained in mostly fair to good condition. Peanut and cotton planting has been progressing well with improving soil moisture conditions in northwest Florida. 
Appendix 1: Additional May departures from normal data for Florida locations.
Appendix 2: Select daily maximum and minimum temperature records (° F) broken during May (compiled from NOAA, NWS). A value breaking or tying the record for the entire month of May is indicated by ** or *