Prepared by Melissa Griffin and David F. Zierden.
Florida Climate Center
The Florida State University
Tallahassee, FL

Average temperatures varied across the state in May. The departures for average temperatures in May 2014 varied across the entire state, though most of the reporting stations saw average temperatures above normal. The departures ranged from -0.5˚F in Gainesville to 1.4˚F in Key West (Table 1 and Appendix 1). With the exception of Key West, most of the major reporting stations across the state reported at least 1 day above 90˚F, and all of the stations reported more than 10 days with a high above 80˚F. There were multiple maximum and high minimum temperatures that were broken or tied (Appendix 2).
Table 1: May average temperatures and departures from normal (inches) for select cities.

Rainfall totals varied across the state in May. Portions of the northwestern Panhandle, the Nature Coast, and north Florida reported monthly rainfall totals well above normal, while the rest of the state saw below average rainfall during May (Figure 1). Departures from normal roughly ranged from -2.36" to 6.44" (Table 2 and Appendix 1), though localized parts of Florida saw rainfall totals that were as much as 5.00" below normal to over 8.00" above normal. May 2014 was the 4th wettest on record at Tampa. There were multiple 24-hour precipitation records broken for the month (Table 3).
Table 2: May precipitation totals and departures from normal (inches) for select cities.

Table 3: Select daily rainfall records (inches) broken during May (compiled from NOAA, NWS).

Figure 1: A graphical depiction of the monthly rainfall departure from normal (inches) for May is given in the figure below (courtesy of NOAA, NWS).
ENSO-neutral conditions continue in the Pacific. Based on current data and forecast models, the Climate Prediction Center (CPC) continues to have an El Niño Watch in place. Though Neutral ENSO conditions continue to be reported, the equatorial sea surface temperatures (SST) were above average across the equatorial Pacific. ENSO-neutral conditions are favored to continue through the remainder of spring, and there is a greater than 65% chance of an El Niño forming by summer. CPC predicts above normal temperatures across the entire state and normal precipitation through August 2014.
Hazardous weather events in May. There were a total of 224 severe weather reports made in Florida during May. The month started off with thunderstorms producing high winds, dime to quarter sized hail and storm damage in the Jacksonville area, along portions of coastal Brevard County, and near Sanford, FL, and a funnel cloud was reported by the public north of Palm Bay. Heavy rains caused flooding in Temple Terrace, FL, on the 2nd, and another funnel cloud was reported near Sarasota. Multiple reports of high winds (wind gusts up to 55 mph) on the 3rd were made from various locations across southern Florida, including Fort Lauderdale, the Florida Keys, Captiva Island, and Fort Myers. Strong thunderstorms pushed through Jacksonville, Lake City, Gainesville, and other portions of north Florida on the 11th, causing high winds, storm damage, and reports of penny sized hail. On the 13th, one person was injured off the coast of Little Talbot Island when they nearly drowned after being caught in a rip current. Three beach rescues, due to strong rip currents, were reported being done on the same day on Jacksonville Beach. May 14th and 15th were a very active day across the state as severe thunderstorms (with high winds and hail that caused damage) and flooding rains impacted portions of the northwest Panhandle, Big Bend, and along the Suncoast. One person died after being struck by lightning in Seminole, FL, on the 14th. An EF-1 tornado traveled about ½ mile near Wellborn, FL, on the 15th, uprooting many large trees and snapping sheet metal; pieces of lumber were impaled 1-2 ft. into pasturelands. Lightning struck a boat in Gainesville and caused a fire that destroyed the vessel. In Dade County on the 15th, multiple reports of water spouts off the coast of Fisher Island and South Beach were made by trained spotters, while an EF-0 tornado damaged small trees, some street signs, and a vehicle in Doral, FL. The sea breeze initiated some strong thunderstorms on the 25th and 26th, with hail (ranging from pea to quarter sized) reported in the Panhandle, Big Bend, Jacksonville area, and also along the coastal counties of West Florida and portions of south Florida. On the 28th, a 21-year old died after being caught up in high surf and rip currents near Navarre Beach, FL. Two men were struck by lightning while they worked on the roof in Sea Ranch Lakes, FL, and lightning killed several head of cattle in Starke on the 29th. On the same day, localized flooding over Walton County caused rivers to rise just south of DeFuniak Springs. An EF-0 tornado briefly touched down in the community of Riverview, on the 30th, causing minor damage to fencing, roofs, windows, and a pool enclosure. On the same day, the Sheriff's Office in Hendry County reported a tornado to the southwest of Moore Haven, FL.
Table 4: Breakdown of storm reports submitted in Florida during May (compiled from Southeast Regional Climate Center).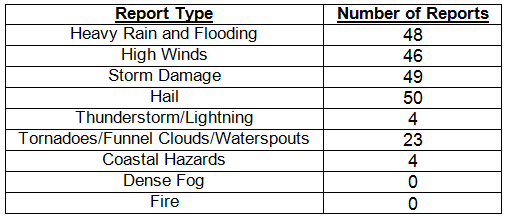 Agricultural and other climate-related impacts. At the beginning of May, topsoil and subsoil moisture levels across the state were running more than 70% adequate and about 10% surplus. Peanuts planted were reported at 25%, which was down from 27% this time last year. A state of emergency was declared for all of the Panhandle counties, and some of the Big Bend due to the excessive rains. Planting of field crops was 2 to 4 weeks behind schedule. In south Florida, watermelon harvesting increased and the citrus area received beneficial rainfall as this year's citrus season came to a close. Vegetables and fruits were being marketed, and replanting of other crops was in full swing in the southern part of the state. As the month continued, fields in the northern part of the state began to dry out and the peanut crop started to show signs of catching up and passing the 5-year averages. Walton and Washington county growers were finally able to plant in fields, though in Levy and Dixie counties about 30% of the fields were flooded and others too wet to begin planting. Some growers opted to plant soybeans instead of cotton. Pasture conditions were listed as fair to good, though dry conditions in the southern part of the state began to impact conditions and citrus growing areas. Portions of northern Florida harvested late winter wheat; the last of the strawberries were harvested in Bradford County. Vegetable producers in southwest Florida began cleaning up fields as the season neared an end.
The month of May started off with the entire state free of any dry or drought conditions. The unusual wet conditions that most of the state has seen during the first part of 2014 continued, though portions of the southern part of Florida has remained dry throughout the time period. By the second week in May, abnormally dry conditions were reported in Broward, Collier, Dade, and Monroe counties. The lack of rainfall for the remainder of the month led to an increase in observed drought conditions, calling for moderate drought (D1) to be recorded for coastal portions of Collier, Dade and Monroe counties. Lake Okeechobee is currently at 12.54 ft. and is positioned well for the start of the summer wet season.
Figure 2: Drought conditions in Florida as of May 27, 2014 (courtesy of U.S. Drought Monitor).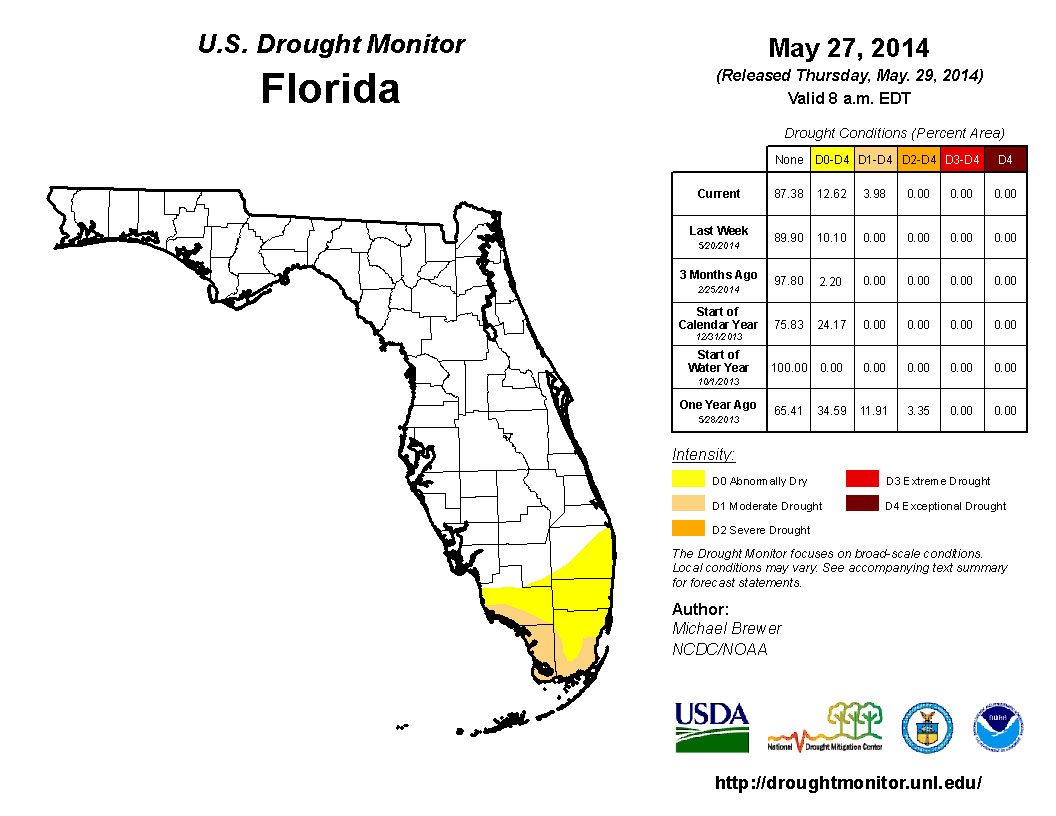 Appendix 1: Additional May departures from normal data for Florida locations.

Appendix 2: Select daily maximum and minimum temperature records (° F) tied or broken during May (compiled from NOAA, NWS).