Prepared by David F. Zierden and Melissa Griffin
Florida Climate Center
The Florida State University
Tallahassee, FL
Temperatures slightly above normal for May. Most of Florida experienced near-normal to slightly warmer temperatures during the month of May, with most locations averaging 1-2 degrees warmer than normal. No significant cold fronts impacted the State in May, but an unusual May storm brought record low afternoon maximum temperatures to Central and Northeast Florida on May 19th and 20th. Afternoon temperatures struggled to reach 70 across most of Central and North Florida on these days, and many locations set records for lowest maximum temperature. Gainesville was the coldest location, recording maximum temperatures of 61 on May 19th and 66 on May 20th.
| | | |
| --- | --- | --- |
| Station | Average Temperature | Departure from Normal |
| Pensacola | 75.8 | 1.2 |
| Tallahassee | 75.5 | 1.1 |
| Jacksonville | 75.2 | 1.8 |
| Orlando | 76.7 | 1.9 |
| Tampa | 78.7 | 1.1 |
| Miami | 80.5 | 0.9 |
| Key West | 80.7 | 0.0 |
Table 1: May average temperatures and departures from normal for selected cities (degrees F.).
This May could end up one of the wettest on record. An unusual May storm system brought widespread heavy rainfall to nearly all areas of the State with the coastal areas of Northeast Florida once again the epicenter. Virtually all locations, with the exception of the Western Panhandle, received at least 2 inches of rain from this system, with most locations seeing significantly more. Volusia and Flagler counties reported storm totals of over 20 inches, measured by CoCoRaHS volunteer observers (25.49 inches at Ormond Beach) and the Flagler County Fairgrounds (23.75 inches). This May now ranks as the wettest on record (since 1923) at Daytona Beach and the second wettest of any month in Daytona with a total of 22.23 inches. The map below shows rainfall amounts for the second half of May from volunteer CoCoRaHS observers. The South Florida Water Management District is unofficially reporting its wettest May on record (75 years) with an area average of 9.04 inches.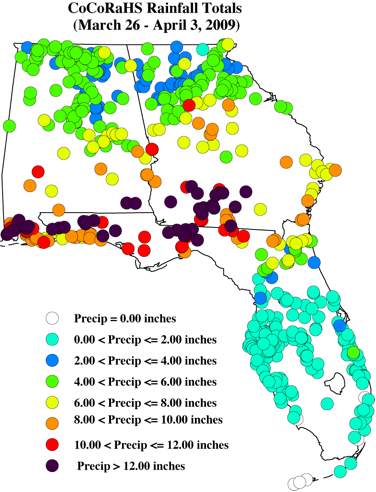 Rainfall total for late May from CoCoRaHS observations (volunteer observers).
| | | |
| --- | --- | --- |
| Station | Total Rainfall | Departure from Normal |
| Pensacola | 10.72 | 6.32 |
| Tallahassee | 6.55 | 1.60 |
| Jacksonville | 13.51 | 10.03 |
| Orlando | 22.33 | 19.07 |
| Tampa | 9.12 | 6.27 |
| Miami | 7.53 | 2.01 |
| Key West | 3.87 | 0.39 |
Table 2: May precipitation totals and departures from normal for selected cities (inches).
Rare May Storm impacts Florida. While the second half of May usually brings the beginning of Florida's summer rainy season, characterized by frequent afternoon thundershowers, it is also the month that brings the most stable weather patterns to the State. By late spring the jet stream over North America migrates northward, taking with it the support for strong cold fronts or mid-latitude low pressure systems that impact Florida in the winter and spring seasons. May is also too early in the season to support tropical development, so Floridians can usually count on fairly stable weather outside the threat of routine afternoon thundershowers.
On May 17th and 18th a late season cold front moved across North Florida before stalling across Central Florida with its soaking rains. A powerful upper-level and surface low pressure system then formed on this boundary over the southeast Gulf of Mexico. This powerful system was able to tap abundant tropical moisture and brought high winds and soaking rains to Northeast Florida over the next several days. This storm system detached from the primary jet stream shortly after formation, leaving no mechanism to move the system quickly from the area. The storm would be nearly stationary as it pounded the area for several days with high winds and heavy rainfall.
The storm brought unusually powerful winds and surf to Northeast Florida and the Northern Gulf Coast. Persistent easterly winds prompted gale and high surf warnings for the Atlantic Coast and the Northern Gulf of Mexico. Wind-driven waves resulted in tides 2-3 feet above normal and water backing up in the St. Johns River and Intracoastal Waterway, where elevated water levels were exacerbated by heavy storm water runoff. Gusts of 51 mph were measured in Daytona Beach and 60 mph at Ponce Inlet. Over 10,000 homes lost power at some point on May 19th or 20th across Central Florida.
Damage from the system included down power lines across Central Florida, urban flooding in Volusia and Flagler counties, and minor beach erosion. The hardest hit industry was potato farming in Volusia, Putnam, and Flagler counties. Crops were in the middle of the harvest season and many fields were left under water. Crop damage in the three-county area is estimated at $45 million (source: Orlando Sentinel)
Drought Impacts. The unusual May storm system was not without benefits, however. Prior to the storm, South Florida had experienced one of its driest 'dry seasons' on record (Nov. 1 - April 30). The South Florida Water Management district reported the driest 6-month period since they began keeping records in 1932. The recent rains have eased short-term drought conditions there and Lake Okeechobee is on the rise again at a level of 11.36 ft. West-Central Florida was also gripped in drought and has enacted some of the tightest water restrictions in recent memory. Flows on the Hillsborough and Alafia rivers, which help supply Tampa and St. Petersburg's drinking water, are now on the rise after experiencing record low flows for this time of year. Fire danger, which had been extremely high across Central and South Florida with Keetch-Byram Drought Index values from 600 to over 700 (corresponding to extreme dryness), is now greatly diminished. Current KBDI values have dropped to 300 or less across South Florida and soils are completely saturated across North and Central Florida. The widespread rainfall has sufficiently moistened soils and greened up vegetation, and combined with the onset of Florida's summer rainy season, effectively ends the active wildfire season.