Prepared by Melissa Griffin and David F. Zierden. Special thanks to L. Zuromski.
Florida Climate Center
The Florida State University
Tallahassee, FL

Average temperatures varied across the state in March. The departures for average temperatures in March 2014 varied across the entire state, ranging from -2.4˚F in Jacksonville to 1.1˚F in Miami (Table 1 and Appendix 1). Miami International Airport recorded 26 days with a maximum temperature above 80˚F, while Fort Myers and West Palm Beach each had 19 days above 80˚F. There were multiple maximum and high minimum temperatures that were broken or tied (Appendix 2).
Table 1: March average temperatures and departures from normal (°F) for selected cities.

Rainfall totals varied across the state in March. Portions of the Big Bend and Panhandle reported monthly rainfall totals near average or slightly above normal, while totals in the rest of the state varied during March (Figure 1). Departures from normal roughly ranged from -0.70" to 4.29" (Table 2 and Appendix 1), though localized parts of Florida saw rainfall totals that were as much as 2.00" below normal to over 5.00" above normal. March 2014 was the 5th wettest on record at Pensacola, and 10th wettest at Key West. There were multiple 24-hour precipitation records broken for the month (Table 3).
Table 2: March precipitation totals and departures from normal (inches) for selected cities.

Table 3: Select daily rainfall records (inches) broken during March (compiled from NOAA, NWS).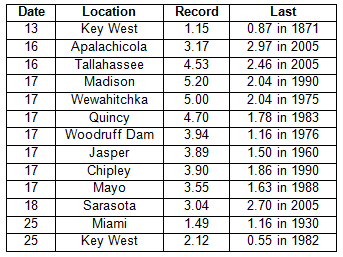 Figure 1: A graphical depiction of the monthly rainfall departure from normal (inches) for March is given in the figure below (courtesy of NOAA, NWS).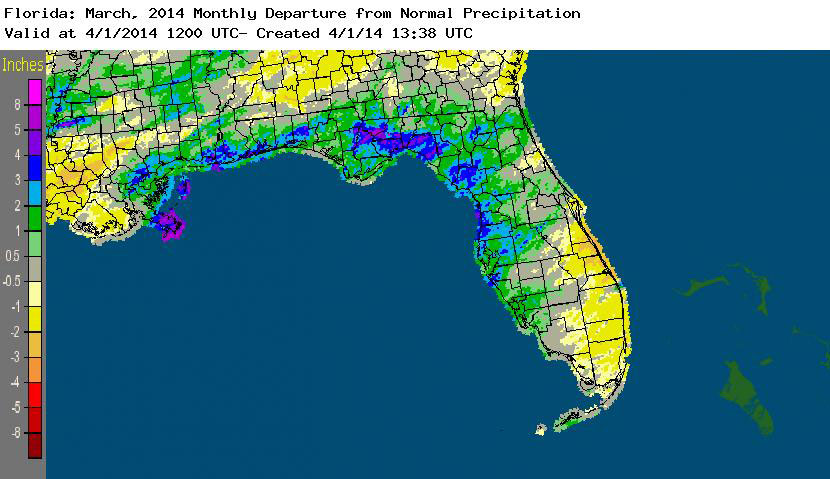 ENSO-neutral conditions continue in the Pacific. Based on current data and forecast models, the Climate Prediction Center (CPC) has issued an El Niño Watch. Though Neutral ENSO conditions continue to be reported, the equatorial sea surface temperatures (SSTs) were above average near the International Date Line, with regions of near average SST in the east-central Pacific. ENSO-neutral conditions are favored to continue through the spring of 2014, with a 50% chance of an El Niño forming in the summer or fall. CPC predicts above normal temperatures across the entire state and normal precipitation through June 2014.
Hazardous weather events in March. There were a total of 208 severe weather reports made in Florida during March. The month started out quiet, but, on the 5th, heavy rain around Jupiter, FL, caused flooding problems on local roadways. The following day, March 6th, a storm system caused multiple reports of waterspouts, wind gusts over 50 mph, storm damage, and even reports of tornadoes as it moved across portions of the state. Tornadoes were reported near Tampa and Belle Glade. High reports came in from Tampa, Fort Myers, Naples, Fort Lauderdale, Miami, and portions of the Florida Keys. A strong cold front caused heavy rain and flooding along the Panhandle and the Big Bend on the 16th; and lightning caused a house fire that destroyed a home in Hiland Park, FL (Bay County) on the same day. As the low pressure and associated cold front moved east, there were reports of heavy rain near Lake City and Jacksonville and high winds and numerous reports of storm damage across most of the Florida Peninsula on the 17th and 18th. Low pressure off the east coast on the 25th and the 26th caused high winds along portions of the Gold Coast and into the Keys. A squall line set up over Escambia County on the 28th and produced heavy rains, flooding, and storm damage as it moved through Pensacola to Fort Walton Beach, eventually impacting western portions of the Big Bend. On the 29th, the same area of disturbed weather that impacted north Florida the day before moved through the Peninsula. Reports of high winds (near 60 mph gusts), heavy rain, flooding, and hail (~1.25") were made in Ocala, Tampa, Orlando, Lakeland, West Palm Beach, and Key West. There was a confirmed EF-0 tornado that hit near Lake Mary, FL (Orange County), causing minor damage to fences, small trees, and signs, and lighting caused a house fire in Lady Lake, FL (Lake County) on the 29th.
Table 4: Breakdown of storm reports submitted in Florida during March (compiled from Southeast Regional Climate Center).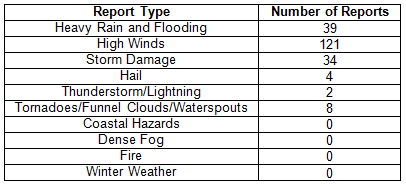 Agricultural and other climate-related impacts. At the beginning of March, sugarcane mills in Palm Beach County were finishing their harvest, while farmers in other portions of the state readied fields for melon planting (Dixie and Gilchrist), replanted potatoes (Flagler and Putnam), prepped fields for planting corn (Walton), and harvested a variety of vegetables (Miami-Dade). Light rain fell over the citrus area, and field workers reported small sizes on all orange varieties. Bloom had been noted in the southern growing region, signaling the beginning of next year's crop. Growers in Indian River were still dealing with a psyllid problem in groves. By the middle of the month, pasture quality across most of the state had improved due to the warmer temperatures and widespread rainfall. There were some portions of the state that received more than 2 inches of rain in a 24-hour period, and some fieldwork was impacted due to the heavy rains. Hay supplies were running short in a few counties, especially with some fields flooded from the rain. Daytime temperatures were unseasonably warm in the citrus growing area, and some groves began irrigating. Sugarcane harvest was nearing completion in the southern part of the state. Some farmers in the Panhandle were 2 weeks behind on preparing fields by the end of the month due to the heavy rains and flooded fields. Full bloom was evident in all areas on both oranges and grapefruits. The cattle condition for the state primarily ranged from fair to good, but the pasture condition was mostly fair.
Average rainfall across the state during March kept drought conditions under control, with only lingering dry conditions in the northwest Panhandle. Heavy rain events on the 17th and 25th of the month caused some rivers in the north and north-central part of the state to rise, causing minor flooding issues. The Climate Prediction Center is forecasting normal precipitation for April, May, and June, as the state enters the driest part of spring before transitioning to the rainy season in late May-early June.
Figure 2: Drought conditions in Florida as of March 24, 2014 (courtesy of U.S. Drought Monitor).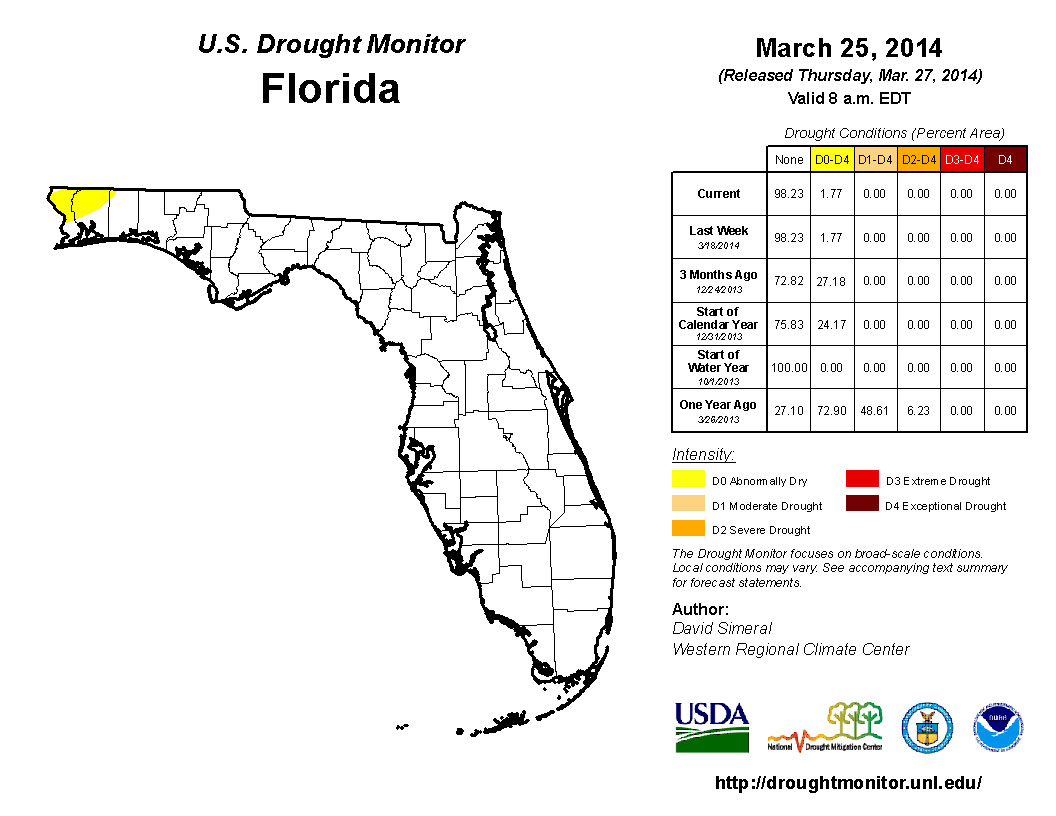 Appendix 1: Additional March departures from normal data for Florida locations.

Appendix 2: Select daily maximum and minimum temperature records (° F) tied or broken during March (compiled from NOAA, NWS).