Prepared by Melissa Griffin, Preston Leftwich, and David F. Zierden
Florida Climate Center
The Florida State University
Tallahassee, FL

Average temperatures were well above normal in March. Average temperatures were well above normal for across the entire state (Table 1). Departures from normal ranged from 2.6˚F at Key West to 8.0˚F at Tallahassee. March 2012 was the warmest on record at Pensacola and Tampa, while it was the 2nd warmest on record at Tallahassee. The mornings of March 5-6 had some low temperatures around the mid 30's, and below freezing temperatures in a few places, including Perry, FL. Most of the state experienced warmer than normal temperatures, which are typically reported with La Niña conditions, and various record high temperatures were tied and broken throughout the month (see Appendix). No record low temperatures were reported during the month.
Table 1: March average temperatures and departures from normal (° F) for selected cities.

Rainfall totals varied statewide in March. Rainfall totals varied statewide in March (Table 2). Most stations saw below normal rainfall, while Miami saw slightly above normal rainfall. Portions of Jackson, Walton, and Washington counties in the Panhandle saw rainfall totals approximately 3.00" above normal. Heavy rains mainly impacted southeast portions of the state during separate rain events (Table 3). At the beginning of the month, a Community Collaborative Rain, Hail and Snow (CoCoRaHS) observer reported 7.28" in Jackson County. Areal patterns of monthly rainfall relative to normal are depicted in Figure 1.
Table 2: March precipitation totals and departures from normal (inches) for selected cities.

Table 3: Select daily rainfall records (inches) broken during March (compiled from NOAA, NWS).

Figure 1: A graphical depiction of the monthly rainfall departure from normal (inches) for March is given in the figure below (courtesy of NOAA, NWS).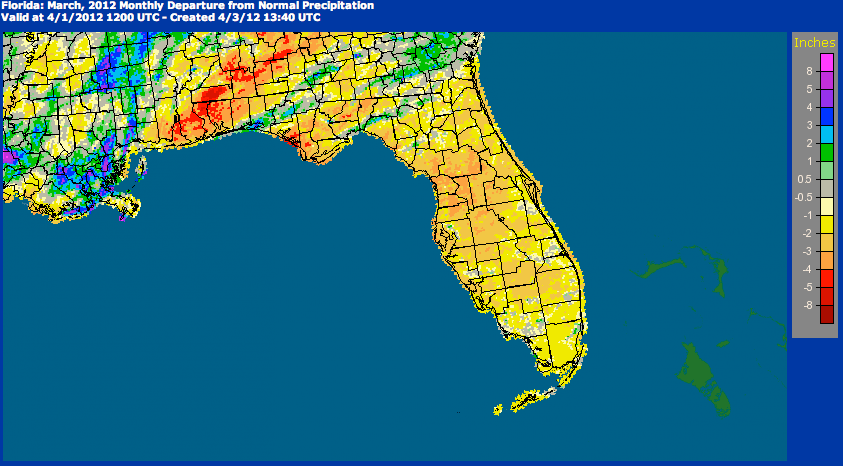 La Niña has weakened across the tropical Pacific Ocean. La Niña continues to weaken across the equatorial Pacific. Equatorial sea surface temperatures (SST) were at least 0.5˚C below average in the central Pacific but are above average in the east-central and eastern Pacific Ocean. The atmospheric circulation anomalies and winds are still consistent with La Niña, but the La Niña is expected to transition to neutral conditions by the end of April 2012. The Climate Prediction Center (CPC) continues to predict warmer than normal temperatures and is now predicting normal precipitation through June.
Hazardous weather. A few significant weather events took place in March. On March 3rd and 4th, a strong cold front pushed through the entire state. There were multiple reports of tornadoes and funnel clouds in Gadsden County on the 3rd. The event proved to be a significant wind event across the state. High wind reports came in from all portions of the state, with wind gusts ranging from 42 mph in Jacksonville to 52 mph in Tampa. Portions of a roof from an apartment complex building sustained damage in the Tampa area, and there were statewide reports of trees down. In addition to the wind damage, there were reports of flooding in Jackson and Walton counties, with portions of major roads, such as US 231, US 331, and I-10 under water. On the 14th, portions of north and north-central Florida saw hail from pea sized (0.25") in Tallahassee to half-dollar sized (1.25") in Gainesville. Another round of severe weather at the end of the month, the 30th-31st, brought high winds and more hail to the state. Funnel clouds were reported at St. Marks and St. Augustine. Lightning caused a house fire in Niceville on the 31st.
There were a few fires reported during March. A small wildfire near Faver-Dykes State Park was reported on the 3rd, while another fire near Bunnell in Flagler County was reported on the 5th. Two structures and two cars were damaged from a wildfire that started near Lake Geneva in Clay County on the 6th. On the 18th, a wildfire burned about 200 acres near Natural Bridge in Wakulla County.
Agricultural and other impacts. Rain early in the month helped wheat production in north Florida, but spring planting in the area was limited. By mid-month, crop producers were busy prepping fields, and, while strawberry, grapefruit, and Valencia orange harvest increased, some additional rainfall caused fungal problems with certain crops. Warm weather and limited rainfall towards the end of the month promoted a fast fieldwork pace for row crops and fruit and vegetable producers. Irrigation of vegetable crops increased in south Florida. Increased reports of blite, powdery mildew, and mites were seen in some areas. Statewide, most of the pastures are in fair to excellent condition.
Since the beginning of March, the drought conditions have gotten worse in some areas but eased in others. Some of the rains during the month eased the extreme drought conditions in the Panhandle and Big Bend regions, with some counties, such as Leon, Gadsden, Jackson, and Washington, seeing a two- category improvement in their drought designation. The area of extreme drought continues to linger from Duval and Nassau counties across the northeast portion of the state to Dixie and Levy counties. The area of D2 (severe) drought increased in the central part of the state, and areas of southeast Florida are now listed in moderate drought. The Climate Prediction Center (CPC) is calling for near normal rainfall through June; however, April and May are typically the driest months for many locations across the state.
Figure 2: Drought conditions in Florida as of March 17, 2012 (courtesy of U.S. Drought Monitor).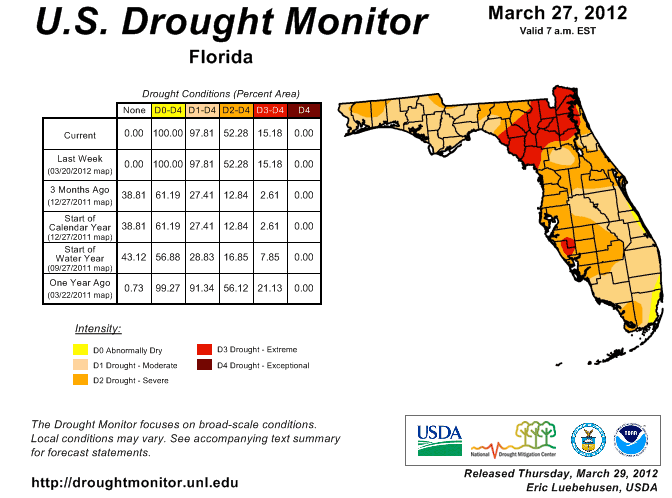 Appendix: Select daily maximum and minimum temperature records (° F) tied or broken during March (compiled from NOAA, NWS).