Prepared by David F. Zierden and Melissa Griffin
Florida Climate Center
The Florida State University
Tallahassee, FL
Temperatures moderate as spring arrives. The month of March began with the last surge of winter as a fairly strong cold front brought temperatures well below normal for March 2nd through the 4th. Coldest temperatures were recorded on the mornings of March 4th with readings in the upper 20's or low 30's in north Florida and lower 40's across central Florida. This would turn out to be the last significant cold snap of the month. The remainder of March brought an extended warming spell where afternoon high temperatures reached the 70's or low 80's just about every day in north Florida and higher in central and south Florida. Persistent ridging across the southeast U.S. brought warm southerly winds and moderate temperatures until the last week of the month. Averaged over the whole month of march, temperatures ranged from around 2 degrees warmer than normal in the western Panhandle to near normal across the rest of the State.
| | | |
| --- | --- | --- |
| Station | Average Temperature | Departure from Normal |
| Pensacola | 62.5 | 2.3 |
| Tallahassee | 61.5 | 0.4 |
| Jacksonville | 62.0 | 0.4 |
| Orlando | 65.7 | 1.0 |
| Tampa | 69.2 | 1.8 |
| Miami | 72.7 | 0.3 |
| Key West | 73.0 | -0.8 |
Table 1: March average temperatures and departures from normal for selected cities (degrees F.).
Last week of March brings heavy rains to the Panhandle, dryness elsewhere. The last week of March brought a shift in the large-scale weather patterns across the Southeast U.S., characterized by an active pattern with frequent low pressure systems moving across the northern Gulf Coast. These systems were accompanied by classic pre-frontal squall lines that dumped heavy rain across the Panhandle and north Florida on March 26-28th and again on the 31st. The slow-moving nature of these systems resulted in widespread heavy rainfall across the entire area, with weekly accumulations of nearly 20 inches north of Pensacola, decreasing to 5-6 inches near Tallahassee as you move eastward. This active weather pattern continued into the first week of April with even more heavy rainfall events for North Florida, Alabama, and Georgia. We will not detail the nature of these events in this summary for March, but will address the major flooding issue that the combined totals produced.
Unfortunately, these torrential rains failed to progress down the peninsula where the driest areas of the State are located. South of a diagonal line from Gainesville to St. Augustine, the peninsula received only 1-2 inches during the month of March and continued the string of months with below-normal rainfall. The one exception is the area around Pompano Beach, where a localized heavy storm produced 6.05 inches on March 18. CoCoRaHS observers in the area also reported totals over 6 inches.
| | | |
| --- | --- | --- |
| Station | Total Rainfall | Departure from Normal |
| Pensacola | 12.34 | 5.14 |
| Tallahassee | 5.29 | -1.18 |
| Jacksonville | 4.79 | -0.86 |
| Orlando | 1.39 | -2.45 |
| Tampa | 0.98 | -1.86 |
| Miami | 1.78 | -0.78 |
| Key West | 0.72 | -1.14 |
Table 2: March precipitation totals and departures from normal for selected cities (inches).
Pacific Ocean impacts on the climate. La Niña, a condition of colder than normal sea surface temperatures in the equatorial Pacific Ocean, began to break up in the month of March. La Niña is known to bring warm and dry winters to Florida and the Southeast. Ocean temperatures have warmed to near-normal in the past month near the Pacific equator and the atmosphere over the region is now behaving more like neutral conditions. A return to Neutral conditions in the Pacific Ocean means that the remainder of spring and early summer will have no predisposition towards either wetter, drier, warmer, or colder than normal climate patterns.
Major flooding on north Florida rivers. The progression weather systems in late March/early April producing heavy rainfall across north Florida, Alabama, and Georgia has resulted in major flooding in low-lying areas and record or near record heights on area rivers. Below are some of the recorded or forecast river crests from the NWS Southeast River Forecast Center:
Pinetta Florida on the Withlacoochee River - Record Flood
Pinetta is forecast to crest at a new record near 88.00 feet. The old record was 85.05 on April 5th 1948.
Ellaville Florida on the Suwannee River - Major Flood
Ellaville is forecast to crest next weekend at a level that would be the 2nd highest on record. Florida Department of Transportation may be required to close a portion of Interstate 10 near the Suwannee River.
Three Rivers Estates on the Suwannee River - Major Flood
Three Rivers Estates is forecast to rise above major flood level towards mid week.
Havana Florida on the Ochlockonee River - Major Flood
Havanna crest at 33.45 feet, a major flood, and just under the 2nd highest flood on record. The 2nd highest flood on record was 33.71 feet.
Altha Florida on the Chipola River - Major Flood
Altha crest at 30.66 feet with was the 4th highest level on record.
Drought impacts. As stated above, the heavy rains of late March/early April failed to penetrate down the peninsula south of Gainesville. With winter rainfall deficits from 5 to 10 inches, drought continues to worsen across central and south Florida. According to the U. S. Drought Monitor, most of the peninsula is now classified as being in moderate or severe drought. Fortunately, Lake Okeechobee levels are higher this year (due to tropical storm Faye) heading into the critical spring period than they were during the last drought years of 2007 and 2008. The big lake is a critical resource for municipal and agricultural water supply in south Florida.
The Southwest Florida Water Management district has restricted watering of lawns to once per week across the entire district with stricter restriction in Pinellas, Pasco, and Hillsborough counties. The South Florida Water Management District is proposing year-round watering restriction to help mitigate recurring water shortages.
Severe weather. The series of storms across north Florida on the last week of March brought some reports of sever weather, though no significant damage. Wind damage and a possible tornado were reported in Santa Rosa and Walton counties on the 26th. Hail, wind damage, and possible tornadoes were reported in half a dozen Panhandle counties on March 27th. Trees and power lines were reported down in north central Florida Counties on the 28th. More reports of wind damage, hail, and possible tornadoes across north Florida and Central Florida on March 31st.
Impacts on agriculture and forestry. The heavy rains across north Florida have delayed field work for row crops such as corn and peanuts. Fields prepared for planting were flooded and some reported soil erosion. Some pastures in north Florida are waterlogged. Elsewhere, warm temperatures have pastures greening up and winter forages have reached maturity.
The dry weather superimposed on the peninsula's typical dry winter season has forests and fuels dangerously dry for wildfire potential. The Florida Division of Forestry reports that portions of central and south Florida have Keetch-Byram Drought Index (KBDI) values over 700 corresponding to a severe threat. Also, recent freezes have browned up smaller fuels and vegetation which will only add to the threat.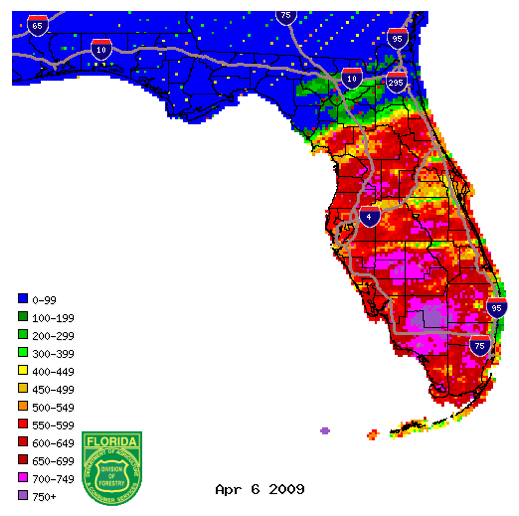 Figure 1: KBDI values from radar-derived precipitation estimates (Courtesy of FL DOF).