Prepared by Lydia Stefanova, Daniel J. Brouillette, and David F. Zierden.
Florida Climate Center
The Florida State University
Tallahassee, FL

Average temperatures in June were mixed across the state. The departures from average temperatures in June 2017 were slightly below normal in the Panhandle and Central Florida to slightly above normal in South Florida, ranging from -1.7˚F in Orlando to +1.7˚F in Melbourne (Table 1 and Appendix 1). June 2017 was the 2nd warmest on record for Melbourne and 6th warmest on record for Miami. Several temperature records were tied or broken across the state (Appendix 2).  
Table 1: June average temperatures and departures from normal (˚F) for selected cities.

Rainfall totals in June were above normal for most of the state. Rainfall totals in June 2017 were below everywhere in the state except for the Florida Keys (Figure 1). Departures from normal roughly ranged from -2.14" in Orlando to +14.13" in Pensacola (Table 2 and Appendix 1), with a most areas receiving over one and a half times the normal precipitation for the month. June 2017 was the wettest on record for Gainesville, 2nd wettest on record for Pensacola, 8th for Tallahassee, and 10th for Jacksonville. A few 24-hour precipitation records broken for the month (Table 3).
Table 2: June precipitation totals and departures from normal (inches) for select cities.

Table 3: Select daily rainfall records (inches) broken during June. (Compiled from NOAA, NWS).
Figure 1: A graphical depiction of the monthly rainfall departure from normal (inches) for June is given in the figure below (courtesy of NOAA, NWS)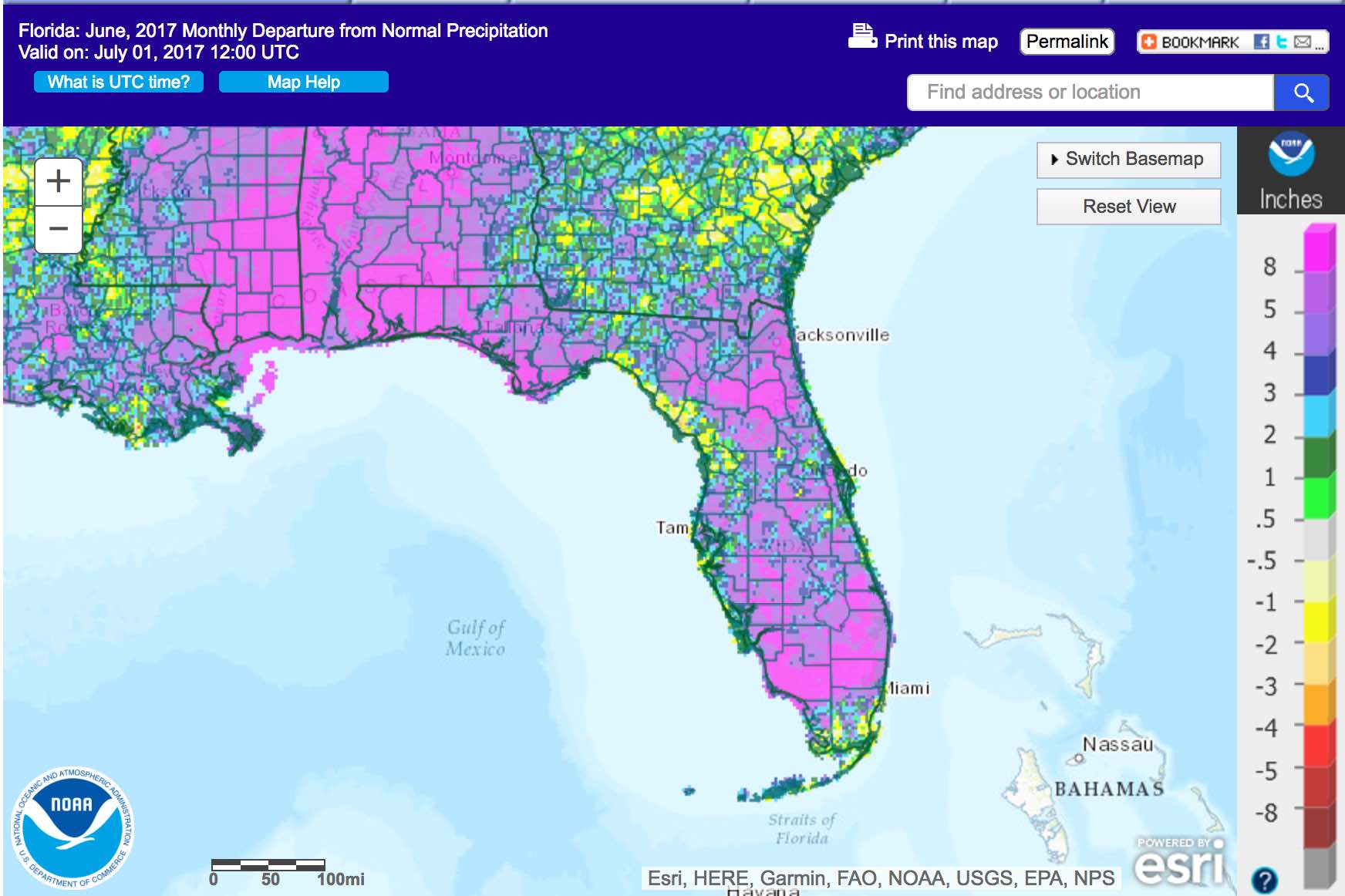 ENSO-Neutral Conditions are Present in the Pacific.   
Based on current data and forecast models, the Climate Prediction Center (CPC) the ENSO alert system is currently set to "Not Active". ENSO-neutral conditions are currently present, with sea surface temperatures (SST) near- to above-average across most of the Pacific Ocean. ENSO-neutral conditions are likely to persist through summer and fall seasons. The CPC seasonal outlook favors above-normal temperatures for Florida through September 2017.
Hazardous Weather Events in June.
There were a total of 369 hazardous weather reports issued in Florida in June 2017, with nearly a third of all reports (114) coming in between the 6th and 7th of the month. Strong marine thunderstorm winds were recorded in that period along the Florida Keys and Miami area, and strong thunderstorm wind gusts up to 61 mph were reported in Brevard, Charlotte, Duval, Hillsborough, Lee, Martin, Palm Beach and Polk Counties. Very heavy rains were reported during that period in Collier (up to 10.27 inches in 12 hours and 13.18 inches in 24 hours) and Santa Rosa County (up to 10.26 inches in 24 hours). Parts of Broward, Collier, Flagler, Gilchrist, Leon, Monroe, and Santa Rosa Counties experienced flooding that required street and road closures. 
The first day of June marked the start of Hurricane Season. The first tropical system of the year to impact Florida was Tropical Storm Cindy, which formed in the northwestern Caribbean Sea on the 19th and made landfall in southwestern Louisianna on the 22nd. Significant rainfall associated with Cindy was seen across most of the Panhandle and northern counties, with smaller amounts in Central and southern counties. Heavy rains and flooding were reported in Bay, Escambia, Santa Rosa, Walton and Washington Counties.
As the weather is settling into summer regime, daily sea breeze thunderstorms are becoming a frequent source of heavy rain, strong winds, and lightning. Several lightning-caused house fires were reported in Santa Rosa County on the 15th of the month and Duval County on the 15th and 26th. A lightning strike on the 26th started a wild fire in Brevard County that burned some 800 acres in the St. Johns River Water Management District. At least four people were injured by lightning strikes during June, with one fatality in Broward County on the 17th.  Other hazardous weather related incidents for the month included three injuries and one fatality resulting from rip currents on the 25th in Palm Beach Shores. 
Waterspouts are also becoming more frequent with the summer weather, especially along the Florida Keys and near Miami. A total of 20 sightings were documented during the month, and some of these reports included more than one spout. There were four tornadoes reported for June: a weak EF-0 in Broward County on the 5th, a weak EF-1 in St. Johns County on the 6th, a strong EF-0 in Franklin County on the 20th, and a probable tornado detected based on tree and powerline damage in Okaloosa County on the 21st. Funnel clouds were observed on the 13th in Clay County, the 14th in Duval, the 28th near Flagler Beach, and on the 30th in Hendry County.
Table 4: Breakdown of storm reports submitted in Florida during the month of June (Compiled from Southeast Regional Climate Center.)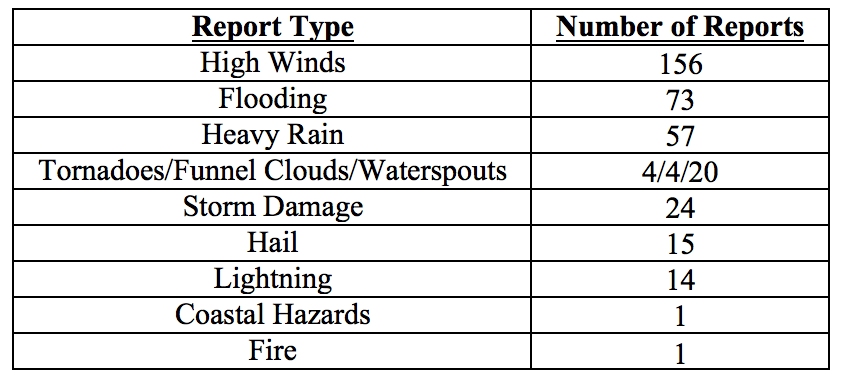 Drought-Related Impacts. 
At the end of May, only the northwest and southeast portions of the state were drought free, accounting for approximately 17% of the state's area. Extreme drought affected 15% of the state (particularly Central Florida), severe drought – 23%, and moderate drought – 33%. The remainder of the state was experiencing abnormally dry conditions. Abundant and widespread rain eliminated the extreme drought conditions by the first week of the month. In the following weeks, as rains persisted, drought conditions were continuously improving. As of the latest U. S. Drought Monitor report, issued on June 27, the entire state is drought-free for the first time since approximately a year ago. As of June 20th the temporary county-level burn bans have been lifted from all but Charlotte County. Water levels in Lake Okeechobee are currently at 12.37 ft., which is still below average for this time of the year but a significant improvement from the beginning of the month.  
Agriculture-Related Impacts. 
At the beginning of May, topsoil moisture levels ranged from very short (23%) to short (41%) or adequate (33%). These values fluctuated throughout the month, with a general tendency for drying out. By the end of the month, very short values accounted for 28% of soils, short – for 44% and adequate for 27%. Most of the citrus growing region has been under either severe or extreme drought, and citrus groves were irrigated daily to supply trees with necessary moisture. Ditches and canals were very dry throughout the region due to insufficient rainfall since the beginning of the year. Vegetable season has been winding down, and some crop fields were abandoned due to heavy insect pressure and disease. Pastures have continued to decline with rising temperatures and worsening drought conditions in many areas. Pastures that received rain have improved, but the overall pasture quality across the state has been fair to poor. In many areas supplemental cattle feeding with hay has been needed, and many farmers have been shipping in hay. Cattle have remained in mostly fair to good condition. Peanut and cotton planting has been progressing well with improving soil moisture conditions in northwest Florida. 
Appendix 1: Additional June departures from normal data for Florida locations.

Appendix 2: Select daily maximum and minimum temperature records (° F) broken during June (compiled from NOAA, NWS).