Prepared by Lydia Stefanova, Daniel J. Brouillette, and David F. Zierden.
Florida Climate Center
The Florida State University
Tallahassee, FL

Average temperatures in July above normal for most the state. The departures from average temperatures in July 2017 were above normal across most of the state, ranging from -0.4˚F in Orlando to +2.8˚F in Pensacola (Table 1 and Appendix 1). Most reporting stations across the state had more than 21 days with high temperatures in the 90s.  For Miami, July 2017 was not only the warmest July on record, but also the warmest of any month on record. It was also the 3rd warmest July for Pensacola, 5th for West Palm Beach, 6th for Tampa, and 10th for Key West. Several high minimum temperature records were tied or broken across the state (Appendix 2).   
Table 1: July average temperatures and departures from normal (˚F) for selected cities.

Rainfall totals in July were mixed across the state. Rainfall totals in July 2017 were below normal in most parts of the Panhandle and mixed in Peninsular Florida (Figure 1). Departures from normal roughly ranged from -1.90" in Pensacola to +10.63" in Gainesville (Table 2 and Appendix 1), although localized parts of the state saw rainfall totals that were as much as 4.00" below normal (Figure 1). July 2017 was the wettest on record for Gainesville – in fact, the rainfall from June to date at Gainesville has already eclipsed the record for the full summer period (June through August). This was also the 7th wettest July on record for Miami, and the 10th for Jacksonville. A number of 24-hour precipitation records broken for the month (Table 3).
Table 2: July precipitation totals and departures from normal (inches) for select cities.

Table 3: Select daily rainfall records (inches) broken during July. (Compiled from NOAA, NWS).
Figure 1: A graphical depiction of the monthly rainfall departure from normal (inches) for July is given in the figure below (courtesy of NOAA, NWS)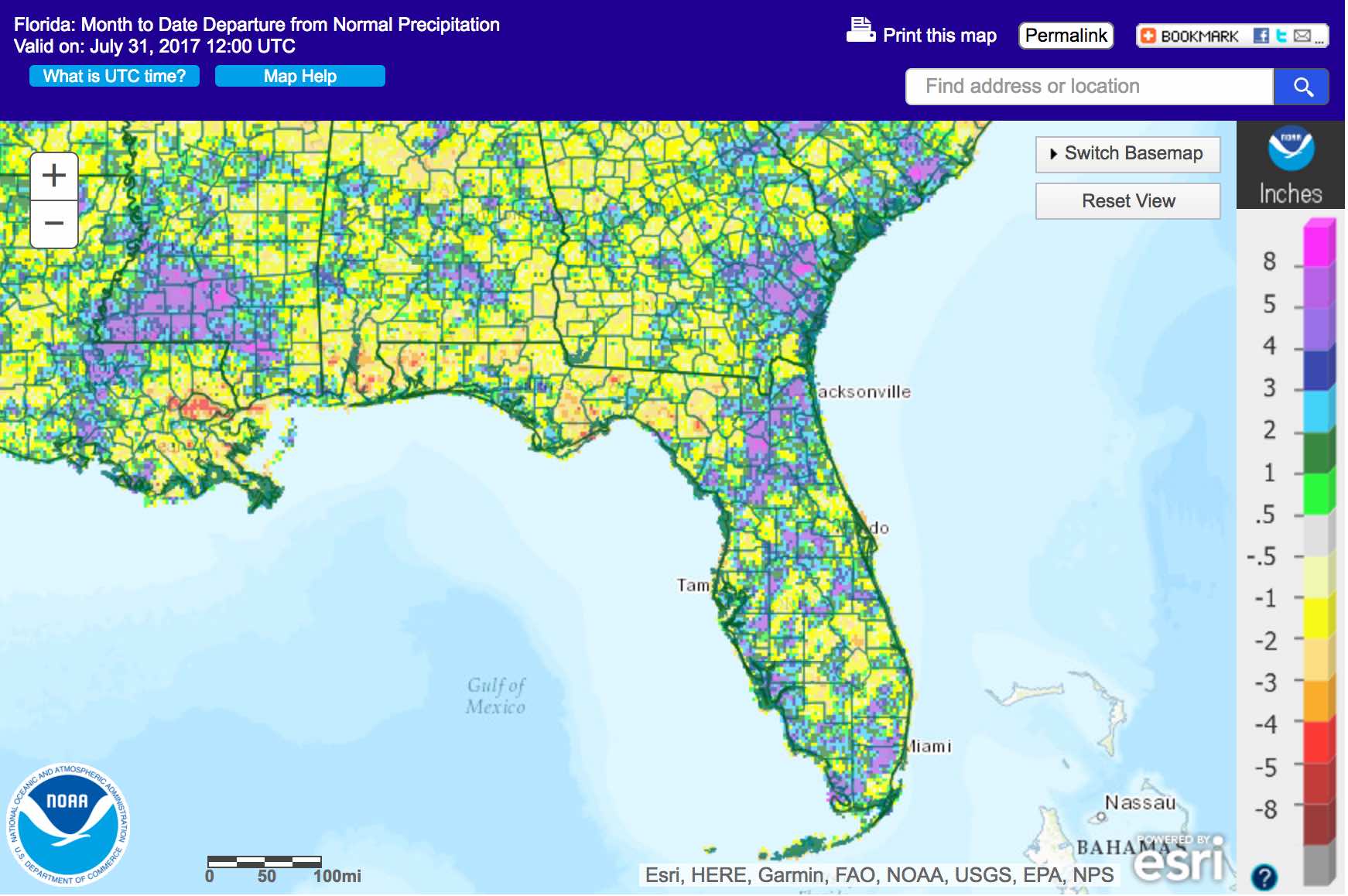 ENSO-Neutral Conditions are Present in the Pacific.   
Based on current data and forecast models, the Climate Prediction Center (CPC) the ENSO alert system is currently set to "Not Active". ENSO-neutral conditions are currently present, with sea surface temperatures (SST) near- to above-average across most of the central and east-central Pacific Ocean. ENSO-neutral conditions are favored to persist through into the winter. The CPC seasonal outlook favors above-normal temperatures for Florida through October 2017.
Hazardous Weather Events in July.
A total of 405 hazardous weather events were logged into the National Weather Service Local Storm Reports Database for Florida in July 2017 (see Table 4 for a breakdown by type). 
Thunderstorms were widespread throughout the month, with strong winds resulting in localized storm damage, rainfall and flooding. 
Wind damage, including downed trees power lines, was reported at different times in 30 counties. Several flooding events required road closures in localized areas, particularly in Duval County on the 30th of the month. Hail with diameter ranging from 0.25'' to 1.25'' was reported in Alachua, Broward, Duval, Hillsborough, Lake, Marion, Orange, Osceola, Palm Beach, Pasco, Pinellas, Polk, Putnam, Sarasota, St. Johns and Volusia Counties on different days throughout the months. Lightning strikes in July caused more than fifteen injuries, in Brevard, Broward, Duval, Martin, Palm Beach, Pinellas and Volusia Counties and two fatalities, in Brevard and Okaloosa Counties. Several lightning-caused house fires were reported as well. 
Funnel clouds were observed in Kissimmee on the 8th, in Miami-Dade and West Palm Beach on the 16th, in Seminole, St. Lucie and near I95 in Martin County on the 17th, and off of Flagler Beach on the 23rd. Two brief tornadoes were seen in Orange County on the 8th and an EF-0 tornado briefly touched down near the coast in Duval County on the 23rd. A number of waterspouts were observed during throughout the month, including twenty sightings (some with multiple spouts) along the Florida Keys, eleven sightings near Miami and the Everglades, seven along the west-central coast, and four in the Panhandle.  
Some ten to fifteen heat-related illnesses were reported by Miami Beach Ocean Rescue throughout the day on the 25th. 
A cool front, uncommon for this time of the year, moved over the northern portion of the state in the last days of the month. The atmospheric instability created by its passing, combined with the warm air mass over the Gulf of Mexico, gave rise to a tropical depression which quickly turned into Tropical Storm Emily. In anticipation of heavy rain, a state of emergency was declared for 31 Florida counties. Emily made landfall near Tampa with tropical storm force winds reported from Collier to Manatee Counties, and proceeded northeastward across the Peninsula, bringing locally heavy rains to parts of central Florida.
Table 4: Breakdown of storm reports submitted in Florida during the month of July. (Compiled from Iowa State University/Iowa Environmental Mesonet)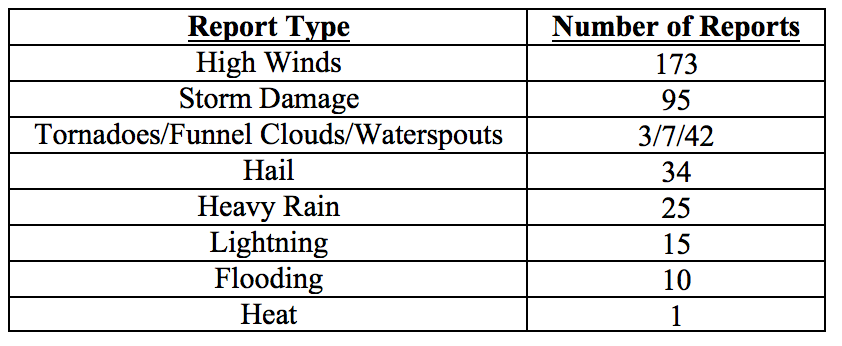 Drought-Related Impacts. 
The entire state was drought-free at the end of June, and remained drought-free throughout July (as of the latest US Drought Monitor Report, issued on July 27th). Water levels in Lake Okeechobee water by the end of the month were at 12.81 ft., which is below normal for this time of the year.  
Agriculture-Related Impacts. 
Topsoil levels across the state have held at mostly adequate throughout the state. Canals and ditches in the citrus growing area have filled up well.  Growers have been doing light irrigation as needed. Pastures have benefitted from plentiful rainfall in most areas, and are in generally good condition. Cattle are seeking shade in the afternoon but are also in generally good condition. Cotton planting has been completed, and corn and tobacco are being harvested. Hay cutting is active, although some delays due to wet conditions have been encountered in Dixie, Lafayette, Levy, Osceola, Suwannee, Taylor, Volusia, and Walton Counties. Wet conditions in some fields have delayed application of needed weed and disease control agents and nitrogen supplementation. Sugar cane and rice in south Florida are developing well following adequate rains and plenty of sunshine, and progressing normally for this time of the year. 
Appendix 1: Additional July departures from normal data for Florida locations.
Appendix 2: Select daily maximum and minimum temperature records (° F) broken during July (compiled from NOAA, NWS).