Prepared by Lydia Stefanova and David F. Zierden.
Florida Climate Center
The Florida State University
Tallahassee, FL

Average temperatures in July were above normal across the state. The departures from average temperatures in July 2016 were above normal across the entire state, ranging from +0.6˚F in Miami and Key West to +3.0˚F in Tallahassee (Table 1 and Appendix 1). Across the state this was one of the top five warmest July months on record. It was the top warmest July on record for Daytona Beach, Fort Lauderdale, Melbourne, Orlando, Tampa and West Palm Beach. Multiple warm maximum and minimum temperature records were tied or broken (Appendix 2).
Table 1: July average temperatures and departures from normal (˚F) for selected cities.

Rainfall totals in July were below normal for most of the state. Most of the state had below normal rainfall (Figure 1). Major reporting stations registered departures from normal ranging from -4.87'' in Melbourne to +0.76" in Tallahassee (Table 2 and Appendix 1), although localized parts of the state saw rainfall totals that were more than 5" below normal to 5" above normal (Figure 1). This was one of the top five driest July months on record for most of the state's Atlantic coast from Jacksonville to West Palm beach. No 24-hour precipitation records were broken for the month.
Table 2: July precipitation totals and departures from normal (inches) for select cities.

Figure 1: A graphical depiction of the monthly rainfall departure from normal (inches) for July (courtesy of NOAA, NWS).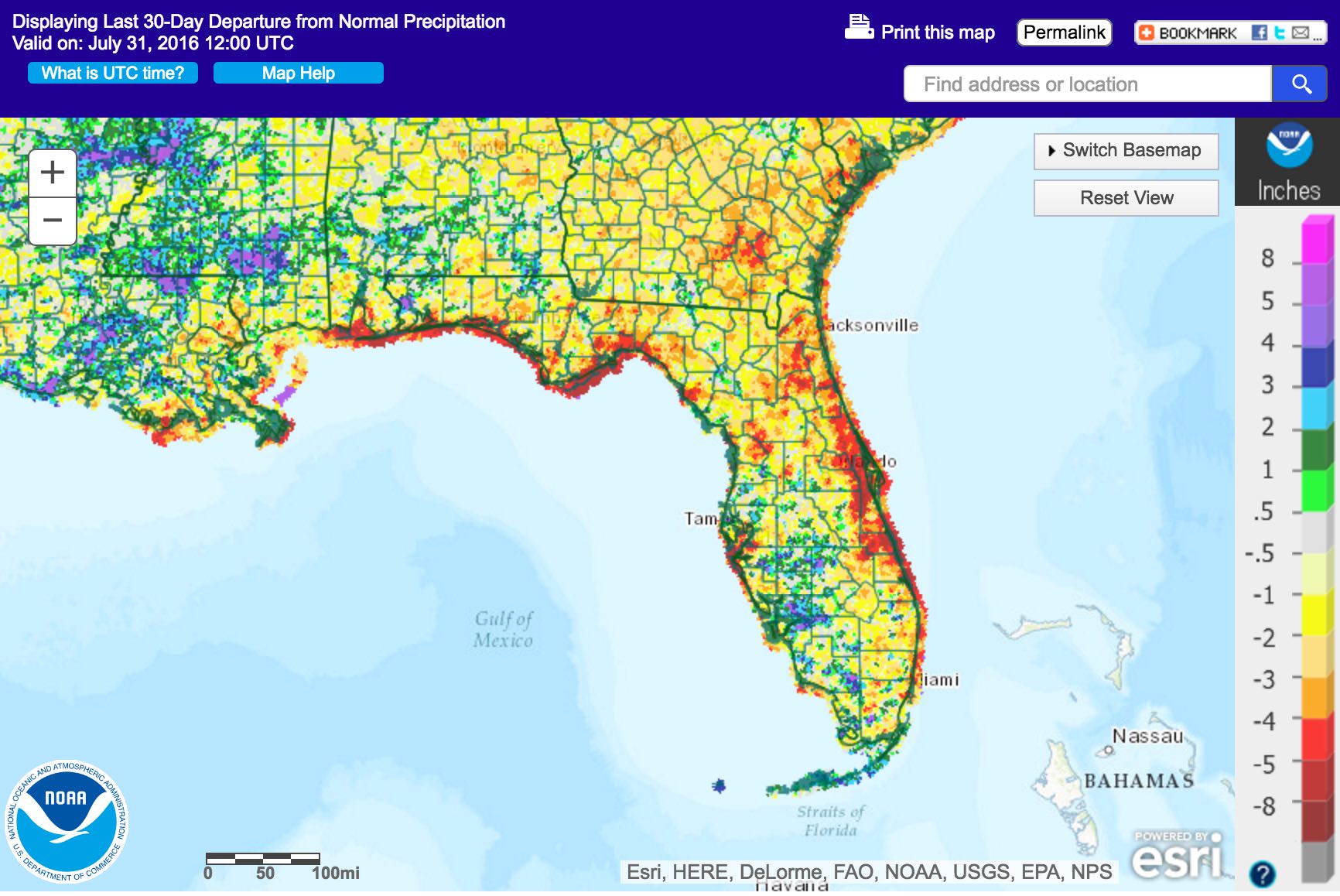 Neutral ENSO Conditions are Present in the Pacific.
Based on current data and forecast models, the Climate Prediction Center (CPC) ENSO Alert System is at a La Niña Watch. ENSO neutral conditions are present, with sea surface temperature (SST) near or below average across most of the east-central and eastern equatorial Pacific Ocean. Development of La Nina is favored during August-October 2016, with a 55-60% chance of La Nina during the fall and winter of 2016/2017. CPC predicts high likelihood of above normal temperatures across the state for August 2016 through October 2016.
Hazardous Weather Events in July.
AThere were a total of 234 hazardous weather events reports submitted in Florida for the month of July (see Table 4 for a breakdown by event type). Numerous strong wind gusts associated with seasonal severe thunderstorms were reported throughout the state. Some thunderstorms produced up to half-inch sized hail. Reports of wind damage from severe thunderstorms were widespread from Tampa to Jacksonville, mainly entailing downed trees and powerlines. There were several instances of lightning strikes causing fires (Volusia, Santa Rosa, Palm Beach, St Johns, Pinellas Counties) or injuries (Alachua and Pinellas Counties), including a fatality in Lee County on July 25th. One person was hospitalized after nearly drowning in a rip current off the coast of St. Lucie County on July 23.
Table 4: Breakdown of storm reports submitted in Florida during the month of July (Compiled from Southeast Regional Climate Center.)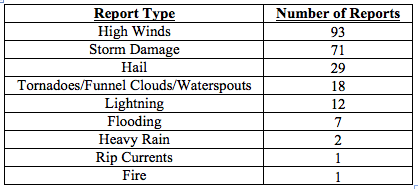 Agriculture-Related Impacts.
According to the USDA at the beginning of July, topsoil moisture levels were at mainly (60%) adequate, though some (15%) surplus values and short (19%) values were reported across the state. Not much change in these levels was seen as of the latest report for the week ending on July 24. Early in the month there were reports of some flooding in low-lying pastures in the southwestern portion of the state. As the month progressed, warm temperatures and small amounts of rainfall have left many pastures across the state somewhat dry and in need of moisture. Overall, pasture and cattle conditions across the state are mostly good, although some stress to livestock due to high temperatures has been reported in some areas. The citrus-producing area started the month drought-free with abnormally dry conditions creeping in towards the end of the month. Temperatures have been above average on most days, and rainfall has been below average for the season but canals and ditches are still at acceptable levels. Most citrus growers have been irrigating several times a week. Fruit and vegetable growers have increased irrigation because of hot and dry weather. Some hail damage to vegetable farms was reported in Okaloosa County early in the month. Dry conditions have helped hay harvesting in Bradford, Dixie, Flagler, Putnam, Taylor and Walton counties. Corn and tobacco harvests are also underway. Sugarcane fields are reporting low moisture levels. Sugarcane in Palm Beach County is sufficiently irrigated with water from Lake Okeechobee.
Drought-Related Impacts.
At the beginning of July, according to the US Drought Monitor, Florida was entirely drought free. Mid-month, abnormally dry (D0) conditions crept in the northeastern portion of the state (Madison, Hamilton, Suwannee, Columbia, Baker Counties). As rain deficits accumulated, drought conditions towards the end of the month extended south along the Atlantic Coast into Nassau, Duval, St Johns, Flagler, Volusia, Seminole, Orange, Osceola, Brevard, Indian River, and St Lucie Counties. As of July 26th, approximately 88% of the state is drought-free, and the remaining approximately 12% is experiencing abnormally dry conditions. Water levels in lake Okeechobee remain above average for the season, at 14.63 feet.
Appendix 1: Additional July departures from normal data for Florida locations.

Appendix 2: Select daily maximum and minimum temperature records (° F) broken during July (compiled from NOAA, NWS).