Prepared by Melissa Griffin and David F. Zierden.
Florida Climate Center
The Florida State University
Tallahassee, FL

Average temperatures varied across the state in July. The departures for average temperatures in July 2014 varied across the entire state, though most of the reporting stations saw average temperatures above normal. The departures ranged from -1.5˚F in both Pensacola to 1.8˚F at Key West. (Table 1 and Appendix 1). July 2014 was the 4th warmest on record in Key West and the 7th coldest in Perry. Royal Palm Ranger Station reported 101˚F on the 28th, the highest temperature in Florida for the month. Tallahassee reported a maximum temperature over 95˚F for nine days in July, and Miami recorded its hottest temperature (95˚F) since 2011. Minimum temperatures were also a story this month, with multiple records tied or broken due to cold fronts impacting the state (Appendix 2).
Table 1: July average temperatures and departures from normal (inches) for select cities.

Rainfall totals varied across the state in July. Portions of the Florida Peninsula reported monthly rainfall totals well above normal, while most of the rest of Florida saw below average rainfall during July (Figure 1). Departures from normal roughly ranged from -4.84" to 5.61" (Table 2 and Appendix 1), though localized parts of Florida saw rainfall totals that were as much as 8.00" below normal to over 8.00" above normal. July 2014 was the 7th wettest in Tampa and the 10th wettest on record at Miami, and it was the 2nd driest in Tallahassee (the driest was in 1918, with only 1.28" reported for the month) and it was 8th driest on record in Jacksonville. There were multiple 24-hour precipitation records broken for the month (Table 3).
Table 2: July precipitation totals and departures from normal (inches) for select cities.

Table 3: Select daily rainfall records (inches) broken during July (compiled from NOAA, NWS).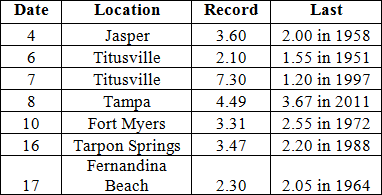 Figure 1: A graphical depiction of the monthly rainfall departure from normal (inches) for July is given in the figure below (courtesy of NOAA, NWS).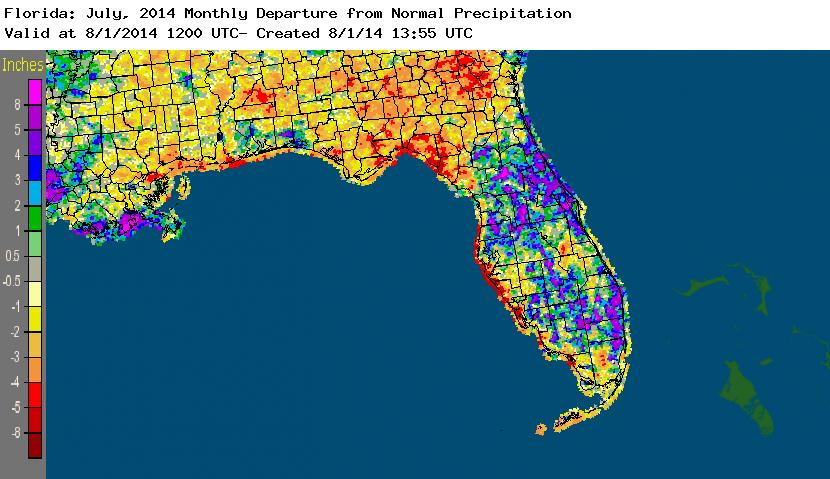 ENSO-Neutral Conditions Continue in the Pacific.
Based on current data and forecast models, the Climate Prediction Center (CPC) continue to have an El Niño Watch in place. Though Neutral ENSO conditions continue to be reported as sea surface temperatures (SST) were slightly above average across the eastern equatorial Pacific. Tropical rainfall is slightly enhanced over Indonesia and in the western equatorial Pacific. CPC predicts above normal temperatures across the entire state and normal precipitation through October 2014.
Hazardous Weather Events in July.
There were a total of 229 severe weather reports made in Florida during July. The month started off with the St. Augustine Life Guard Patrol performing 11 rip current rescues on the 2nd. A strong thunderstorm complex that moved westward across the Peninsula during the afternoon on the 2nd caused storm damage along the Apalachee Bay area and in portions of the Big Bend during the early morning hours on the 3rd. Also on the 3rd, a possible tornado caused damage in Elkton, FL and multiple reports of storm damage, including high winds and hail in portions of north Florida. A man was struck by lightning while outside of his house in Sunrise, FL the afternoon on the 4th. Waterspouts were reported on the 9th, in both Boca Raton and Venice, FL. On the same day, lightning created several small brush fires and a structural fire in Palm Coast, FL (Flagler County). Spotters reported waterspouts again on the 10th, this time off of Big Torch Key and Patrick AFB. The Jacksonville area had three days (12th – 14th) of severe weather, with thunderstorms producing high winds (55 mph), storm damage (downed trees and power-lines), hail (pea to marble sized), and heavy rains. Lightning caused a house fire in Naples, and a thunderstorm produced dime-sized hail in the greater Miami metro area on the 15th. Strong storms ahead of an approaching cold front caused multiple reports of lightning strikes causing structural fires in and around the Tampa Bay area on the 16th. The same line of thunderstorms produced high winds along portions of the Peninsula and even a few waterspouts off the coast of Venice, FL. Rip currents were strong along east Florida beaches on the 19th – 21st with over 2 dozen water rescues and 2 fatalities reported by lifeguards from Jacksonville to Melbourne. From the 20th – 24th, one person died and 5 others were injured when struck by lightning across the state. A very weak tornado touched down along SR 528 in Wedgefield, FL (Orange County) on the 24th. The very next day, an EF0 tornado touched down at Massey Ranch Air Park, flipping two planes and causing extensive damage to three hangers. Lightning from a severe thunderstorm struck a car on Interstate 10 in Jackson County on the 28th, causing significant damage to the vehicle and injuring the driver.
Table 4: Breakdown of storm reports submitted in Florida during the month of July (Compiled from Southeast Regional Climate Center.)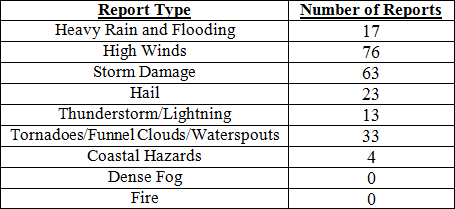 Agricultural and other climate related impacts.<br/ > At the beginning of July, topsoil and subsoil moisture levels across the state were running more than 70% adequate and about 5%. A late planting of soybeans continued in the Panhandle, while hay was being cut due to the drier field conditions in the same area. Central Florida hay fields were too wet for any cutting, but the rain was beneficial to the citrus producing area. Watermelon harvesting completed in Gilchrist County and began in Jackson County. By mid-month, peanut conditions across the state were mainly good (72%) to excellent (7%) with pegging at 71%. Armyworms had been spotted in pastures in the Panhandle and north Florida. Pasture conditions in Charlotte, Collier, Glades, Hendry and Lee counties had improved, through standing water was reported in pastures in St. Lucie County. Fall tomato planting started in Gadsden County, while peppers were planted in Bradford County. Vegetable and fruit were harvested in southern counties, with avocados, okra, and mangoes were harvested in Miami-Dade County. Cattle conditions for the month were good (74%) to excellent (8%) and the next season's citrus crop was progressing well with growers applying summer oils, fertilizers and resetting new trees.
Rainfall across most of the state kept drought conditions in check for most of July. The state started the month 'drought free', until the release of the National Drought Monitor on the 15th. Abnormally dry conditions (D0) were introduced in Gadsden and Leon counties, along with portions of Holmes, Jackson and Jefferson counties along the state line between Alabama, Florida and Georgia. By the end of July, dry conditions were shown for most of the Big Bend and Panhandle counties after 3-months of below normal precipitation had been observed. In the Peninsula, the rains had curbed most of the dryness during the month and the water levels in Lake Okeechobee were currently at 13.89 ft., which is up from the end of June.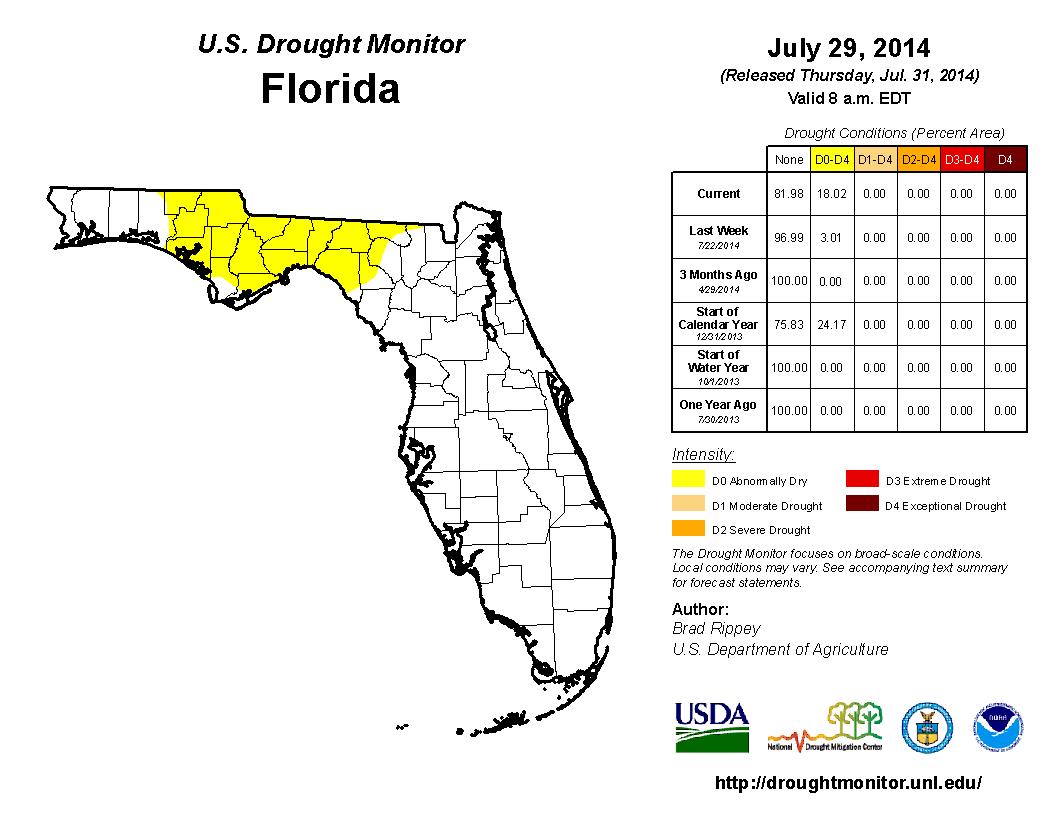 Appendix 1: Additional July departures from normal data for Florida locations.

Appendix 2: Select daily maximum and minimum temperature records (° F) tied or broken during July (compiled from NOAA, NWS).