Prepared by Preston Leftwich, David F. Zierden, and Melissa Griffin
Florida Climate Center
The Florida State University
Tallahassee, FL

Average temperatures much below normal in January. Mean temperatures were again below normal in all areas during January (Table 1). The monthly mean temperature at Tallahassee was more than five degrees F below normal. On the 14th Tallahassee (18° F) and Jacksonville (23° F) tied daily minimum records (Table 2). Jacksonville again tied a daily minimum record (25° F) on the 23rd.
Table 1: January average temperatures and departures from normal (° F) for selected cities.

Table 2: Daily temperature records (° F) tied or broken during January. (Compiled from NOAA, NWS).

Rainfall totals vary during January. Rainfall totals for January were below normal in the northwest, above normal in central areas, and near to below normal in the south (Table 3). Monthly totals at Tampa (6.28 in) and Orlando (5.92 in) were well above normal. Along the southeast coast, monthly rainfall at West Palm Beach and Ft. Lauderdale were below normal. An areal perspective is given by Figure 1. There were at least 13 daily rainfall records set during January (Table 4). A daily rainfall of 1.91 inches at Key West on the 17th broke a record in existence since 1922. On the 25th rainfall of 1.96 inches at Gainesville and 1.50 inches at Fort Myers broke records in existence since 1924 and 1907, respectively. Orlando set three daily records during a nine-day period (17th - 25th).
Table 3: January precipitation totals and departures from normal (inches) for selected cities.

Figure 1: A graphical depiction of the monthly rainfall departure from normal (inches) for January is given in the figure below (courtesy of NOAA, NWS).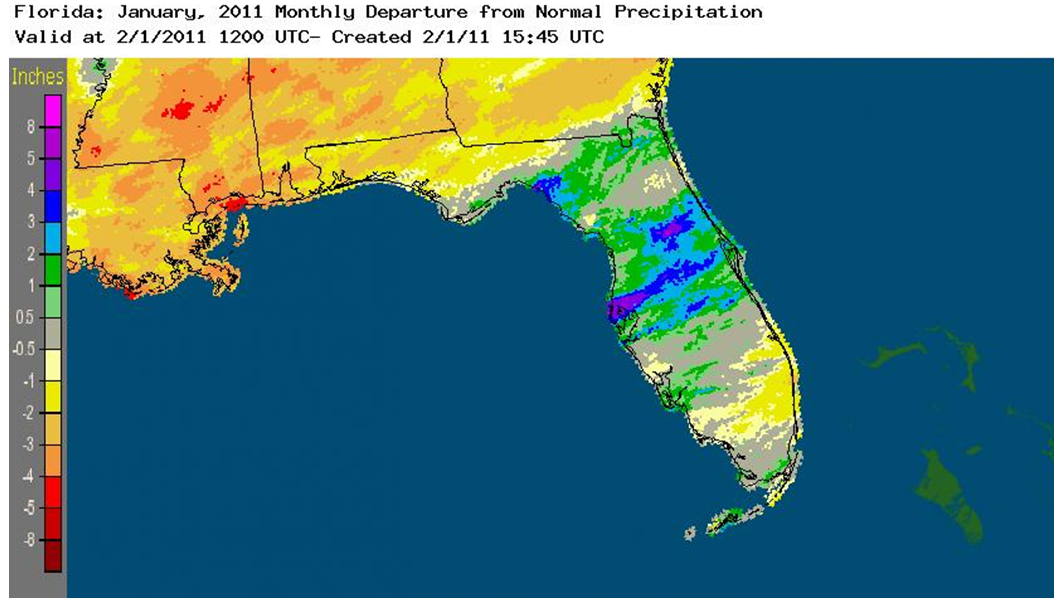 Table 4: Daily rainfall records (inches) tied or broken during January. (Compiled from NOAA, NWS).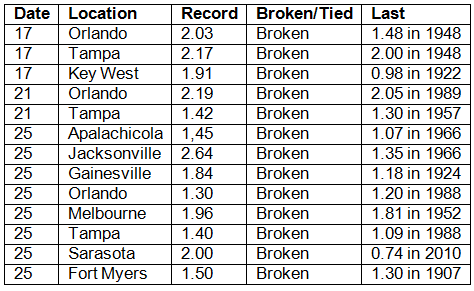 La Niña continues during January. Sea surface temperatures in the equatorial Pacific Ocean were below normal during January, denoting a continued cold phase of ENSO, or La Niña. Above normal rainfall observed during January in the central peninsula and below normal mean temperatures observed statewide were not characteristic of winter during La Niña events. These observed conditions reflect the continued dominance of the North Atlantic Oscillation (NAO) and the Arctic Oscillation (AO) this winter.
Hazardous weather. Sleet was reported at Crawfordville and Tallahassee on the 9th. There were seven confirmed tornadoes during January. On the 17th a brief tornado occurred near Port St. John. Also, thunderstorm winds blew cars off the road near Bradenton and power lines were downed near Marathon and Key West. The 25th was an active severe storm day. Tornadoes were observed near Zolfo Springs, Ona, Alva, Boca Raton, Spring Lake, and Myakka Head. Six mobile homes were damaged or destroyed by the tornado near Alva. Otherwise, these tornadoes caused minor damage. Numerous strong thunderstorm winds were observed in central and southern areas on the 25th. One person was injured in St. Petersburg when strong winds toppled a service station canopy onto a car. Thunderstorm winds gusted to 63 mph at Sanford, 64 mph near Parkland, and 67 mph at Fowey Rocks.
Agricultural and other impacts. Continued cold and dryness produced the greatest impacts on agriculture during January. Freezing temperatures in northern and western citrus areas caused some damage to fruit. Sugarcane suffered some damage and its growth halted during cold spells. Sprinklers were used to avoid great damage to strawberries. As farmers quickly harvested crops after freezing temperatures, the State lifted weight restrictions for trucks hauling agricultural products. Overall, shipments of vegetables were below normal. Rain during the second half of the month somewhat raised the levels of wells in the south. However, many were still in the lowest 10% of normal. Long-term drought conditions persisted for all areas of the state during January. Extreme drought conditions remained in the northeast and along eastern coastal areas.