Prepared by David F. Zierden and Melissa Griffin
Florida Climate Center
The Florida State University
Tallahassee, FL
Winter cold returns in January after a warm December. The roller-coaster ride of unseasonably warm periods followed by chilling cold temperatures continued over Florida this past month, which is typical of the winter season in this state. Temperatures during the first two weeks of January ran generally normal to above normal, with several days of afternoon highs in the high 70's to low 80's during the first week. No significant cold fronts passed through during this time. Beginning on January 14, a large-scale pattern set up with high pressure ridging in the western United States and deep troughing over the eastern U. S. This pattern brought a series of cold fronts and arctic air masses to the area that kept temperatures well below normal over the next 10-12 days.
The coldest temperatures of the year occurred during this time coinciding with an unusually strong arctic air mass that settled over the region on January 20-23. Strong northerly winds on the night of January 20 brought freezing temperatures as far south as Fort Pierce and Okeechobee that night and early the next morning. Florida Automated Weather Network (FAWN) stations at Immokalee, Palmdale, and Belle Glade recorded temperatures of 30, 31, and 32 degrees respectively. On the next night (January 21-22), the very dry high pressure center settled over the state calming winds and setting the stage for a classic radiational freeze event. Radiational freezes can be very damaging, as temperatures drop quickly after sunset leading to extended periods of freezing temperatures. This evening/early morning brought the coldest temperatures since 1997 to some parts of the state and since 2001 to others. Temperatures in the teens to low 20's covered most of inland Florida as far south as Polk County. Elsewhere in south Florida, freezing temperatures were recorded across many locations and as far south as Dade County, with the coldest pockets occurring in lower elevations and over sandy soils. Curiously, no official records for daily low temperatures were broken during this event.
Warm temperatures returned again in the last week of January, with several locations in central and south Florida recording record daytime high temperatures on January 29th and 30th.
| | | |
| --- | --- | --- |
| Station | Average Temperature | Departure from Normal |
| Pensacola | 52.4 | 2.3 |
| Tallahassee | 52.1 | 0.3 |
| Jacksonville | 52.9 | -0.2 |
| Orlando | 59.2 | -1.7 |
| Tampa | 61.1 | -0.2 |
| Miami | 67.5 | -0.6 |
| Key West | 68.5 | -1.8 |
Table 1: January average temperatures and departures from normal for selected cities (degrees F.).
January generally drier than normal. Generally drier than normal conditions persisted across Florida in January. Rainfall deficits for the month ranged from over 4 inches in Tallahassee to around 1.5 inches in south Florida. The driest areas right now are around the southeast coast of Florida, where rainfall totals for the month of January were less than half an inch. The West Palm Beach area had perhaps the driest January on record, only record 0.11 inches of rainfall. The only significant widespread rainfall event was on January 29-30, where much of central and north Florida saw 1-2 inches prior to the passage of a cold front.
| | | |
| --- | --- | --- |
| Station | Total Rainfall | Departure from Normal |
| Pensacola | 3.54 | -2.21 |
| Tallahassee | 1.27 | -4.09 |
| Jacksonville | 3.01 | -0.68 |
| Orlando | 2.08 | -0.35 |
| Tampa | 2.38 | 0.11 |
| Miami | 0.35 | -1.54 |
| Key West | 0.81 | -1.41 |
Table 2: January precipitation totals and departures from normal for selected cities (inches).
Other weather and climate impacts. In a broader scope, it appears that the tropical Pacific Ocean has fallen back into the La Ni%ntilde;a phase (colder than normal waters along the equator in the eastern and central Pacific). La Ni%ntilde;a is known to bring warm and dry winters to Florida and the Southeast and is likely responsible for the relatively dry weather thus far this winter. On the other hand, temperature patterns have not been typical of La Ni%ntilde;a recently. The dramatic swings between warm and cold, along with the outbreaks of cold arctic air are more reminiscent of winters during the neutral phase.
Florida was relatively free of any severe weather in the past month.
Impacts on agriculture and forestry. The freezing temperatures of January 21st and 22nd have had the largest impact on agriculture this month. The citrus regions relied heavily on the use of irrigation for cold protection of fruit and vegetation. Strawberry growers around Plant City and Dover also tried to protect fruit and plants with irrigation and coverings, but some damage was reported to fruits and to blooms. Some fields may lose a harvest cycle due to flower damage. Other vegetable growers reported significant damage, especially to sensitive crops like bell peppers and tomatoes. The tropical fish industry, centered around the Tampa and Lakeland area, suffered losses up to 20% to 30% in uncovered ponds.
The dry weather superimposed on the peninsula's typical dry winter season has forests and fuels dangerously dry for wildfire potential. The Florida Division of Forestry reports that portions of central and south Florida have Keetch-Byram Drought Index (KBDI) values over 700 corresponding to a severe threat. Also, recent freezes have browned up smaller fuels and vegetation which will only add to the threat.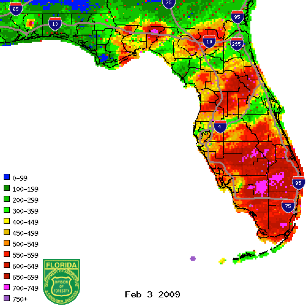 Figure 1: KBDI values from radar-derived precipitation estimates (Courtesy of FL DOF).