Prepared by David F. Zierden and Melissa Griffin
Florida Climate Center
The Florida State University
Tallahassee, FL
Winter maintains its cold grasp during February. The winter of 2008-2009 will be remembered as a fairly cold one in the state of Florida. February temperatures averaged generally below normal across all of the state with the exception of the far western Panhandle. Average monthly temperature ranged from nearly from nearly 4 degrees below normal in the Tallahassee area to around 1 degree below normal in central and south Florida.
| | | |
| --- | --- | --- |
| Station | Average Temperature | Departure from Normal |
| Pensacola | 54.5 | 1.0 |
| Tallahassee | 51.1 | -3.7 |
| Jacksonville | 53.0 | -2.8 |
| Orlando | 59.2 | -1.7 |
| Tampa | 61.8 | -0.9 |
| Miami | 68.0 | -1.1 |
| Key West | 67.8 | -3.0 |
Table 1: February average temperatures and departures from normal for selected cities (degrees F.).
February brought two significant cold spells, the first on February 3rd through the 7th. The coldest night of this event occurred on the evening of February 4th/morning of the 5th where freezing temperatures once again extended all the way to south Florida. The coldest temperature was recorded in Tallahassee at 14 degrees, but freezing temperatures were recorded as far south as Sarasota and Palm Beach counties. Traditionally colder areas such as inland depressions and sandy soils were several degrees colder. This event marked the third time this winter that freezing temperatures covered much of the State.
The second cold spell lasted from February 20th-24th, but did not bring widespread freezing temperatures. The month did not experience any extended stretch of unseasonably warm weather.
Dry February worsens drought conditions. February continued the trend of a drier than normal winter across all of Florida. Rainfall deficits for the month generally ran 1 to 2 inches. This deficit does not sound like much, but considering that the peninsula of Florida is generally quite dry during the winter (only averaging 2-3 inches per month), these deficits are significant and represent a high percentage of normal rainfall. South Florida has been hit the hardest, where some weather stations recorded the dries winter (Dec. through Feb.) on record. Both Miami International Airport and Fort Lauderdale International set new records with only 0.74 inches and 0.39 inches, respectively. Palm Beach International Airport and Naples Regional Airport both ranked second, with 2.01 and 1.07 inches, respectively.
| | | |
| --- | --- | --- |
| Station | Total Rainfall | Departure from Normal |
| Pensacola | 3.81 | -1.29 |
| Tallahassee | 2.50 | -2.13 |
| Jacksonville | 0.98 | -2.17 |
| Orlando | 0.80 | -1.83 |
| Tampa | 0.71 | -1.96 |
| Miami | 0.35 | -1.54 |
| Key West | 0.65 | -0.86 |
Table 2: February precipitation totals and departures from normal for selected cities (inches).
Other weather and climate impacts. La Niña, a condition of colder than normal sea surface temperatures in the equatorial Pacific Ocean, continued to exert its influence on the State's climate. La Niña is known to bring warm and dry winters to Florida and the Southeast and our lack of rainfall is in line with past events. On the other hand, temperature patterns have not been typical of La Niña recently. The dramatic swings between warm and cold, along with the outbreaks of cold arctic air are more reminiscent of winters during the neutral phase.
With the lack of winter rainfall, drought has developed and spread across much of the state. According to the U. S. Drought Monitor, most of the peninsula is now classified as being in moderate drought, with the coastal areas of southeast Florida and the big bend north of Tampa classified as severe. North Florida and the Panhandle have faired a little better and are considered abnormally dry. Fortunately, Lake Okeechobee levels are higher this year (due to tropical storm Faye) heading into the critical spring period than they were during the last drought years of 2007 and 2008. The big lake is a critical resource for municipal and agricultural water supply in south Florida.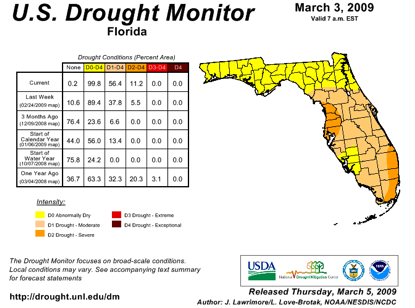 North Florida was hit with a couple rounds of severe weather in the month of February. The first major weather maker area was a long-lived supercell thunderstorm that developed in southwest Alabama east of Mobile and traversed the Florida Panhandle and much of South Georgia on the afternoon of February 18th. The supercell produced baseball-sized hail and 70-80mph wind gusts in Walton and Holmes Counties before eventually becoming tornadic over South Georgia.
On Saturday, February 28, 2009, a vigorous upper-air disturbance was approaching the southeast U.S. from the northwest. A surface low developed on the frontal boundary in Georgia, which began to push the front southward into southern Alabama and the Florida Big Bend on Saturday evening. Out ahead of the cold front, moist, unstable air, coupled with increased vertical wind shear, produced several severe thunderstorms across the Tallahassee area. Straight-line wind damage was reported in the eastern Florida Panhandle. Golfball-sized hail was also reported in Holmes County, Florida, north of Interstate 10 near New Hope. Four fishermen were reported missing off the coast of Clearwater on the 28th when their boat capsized due to rough seas that built to 10-14 feet behind the front. One of the men was later rescued clinging to the overturned hull, but the other three remain missing and the search has been suspended.
Impacts on agriculture and forestry. The freezing temperatures in the first week of February had some impact on agriculture, but nothing overly damaging. In anticipation of the freezing weather, weight restrictions on citrus trucks were relaxed by the State of Florida allowing the pre-freeze harvest and movement of fruit. Otherwise, trees were acclimated to the cold from the January freezes and sustained little damage. Various levels of damage were reported to sugar cane south of Lake Okeechobee. Strawberry harvesting reached its peak in February with good supply and demand. In north and central Florida, the cold and dry conditions have limited the growth of winter pasture and rye grasses. Ranchers are needing to supplement feed with hay.
The dry weather superimposed on the peninsula's typical dry winter season has forests and fuels dangerously dry for wildfire potential. The Florida Division of Forestry reports that portions of central and south Florida have Keetch-Byram Drought Index (KBDI) values over 700 corresponding to a severe threat. Also, recent freezes have browned up smaller fuels and vegetation which will only add to the threat.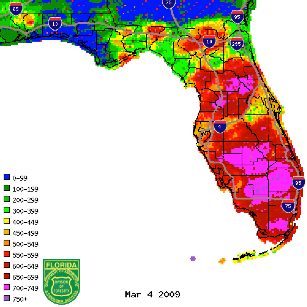 Figure 1: KBDI values from radar-derived precipitation estimates (Courtesy of FL DOF).