Prepared by Lydia Stefanova, Daniel J. Brouillette, and David F. Zierden.
Florida Climate Center
The Florida State University
Tallahassee, FL

Average temperatures were above normal across the state in December. The departures from average temperatures in December 2016 were well above normal across the entire state, ranging from +4.8˚F in Fort Lauderdale to +7.0˚F in Tallahassee (Table 1 and Appendix 1). Despite the warm December temperatures, minimum temperatures at or below freezing occurred on several nights in the northern portion of the state. December 2016 was the 2nd warmest in Key West, Miami, Fort Myers, 3rd warmest in Tampa, and 4th warmest in West Palm Beach and Orlando. Multiple maximum and high minimum temperature records were tied or broken across the state in December. In the interest of space, only the broken records are displayed in Appendix 2.
Table 1: December average temperatures and departures from normal (˚F) for selected cities.

Rainfall totals in December were varied across the state. Most of the Western Florida Panhandle and the Gold Coast received above-normal rainfall for the month, while most of the remainder of the state received below-normal amounts (Figure 1). Departures from normal ranged from -2.47" in St. Petersburg to +5.07" in Pensacola (Table 2 and Appendix 1), though localized parts of the state saw rainfall totals that were as much as 3.00" below normal to 8.00" above normal (Figure 1). December 2016 was the 6th wettest on record for Pensacola There were several 24-hour precipitation records broken for the month (Table 3).
Table 2: December precipitation totals and departures from normal (inches) for select cities.

Figure 1: A graphical depiction of the monthly rainfall departure from normal (inches) for December is given in the figure below (courtesy of NOAA, NWS).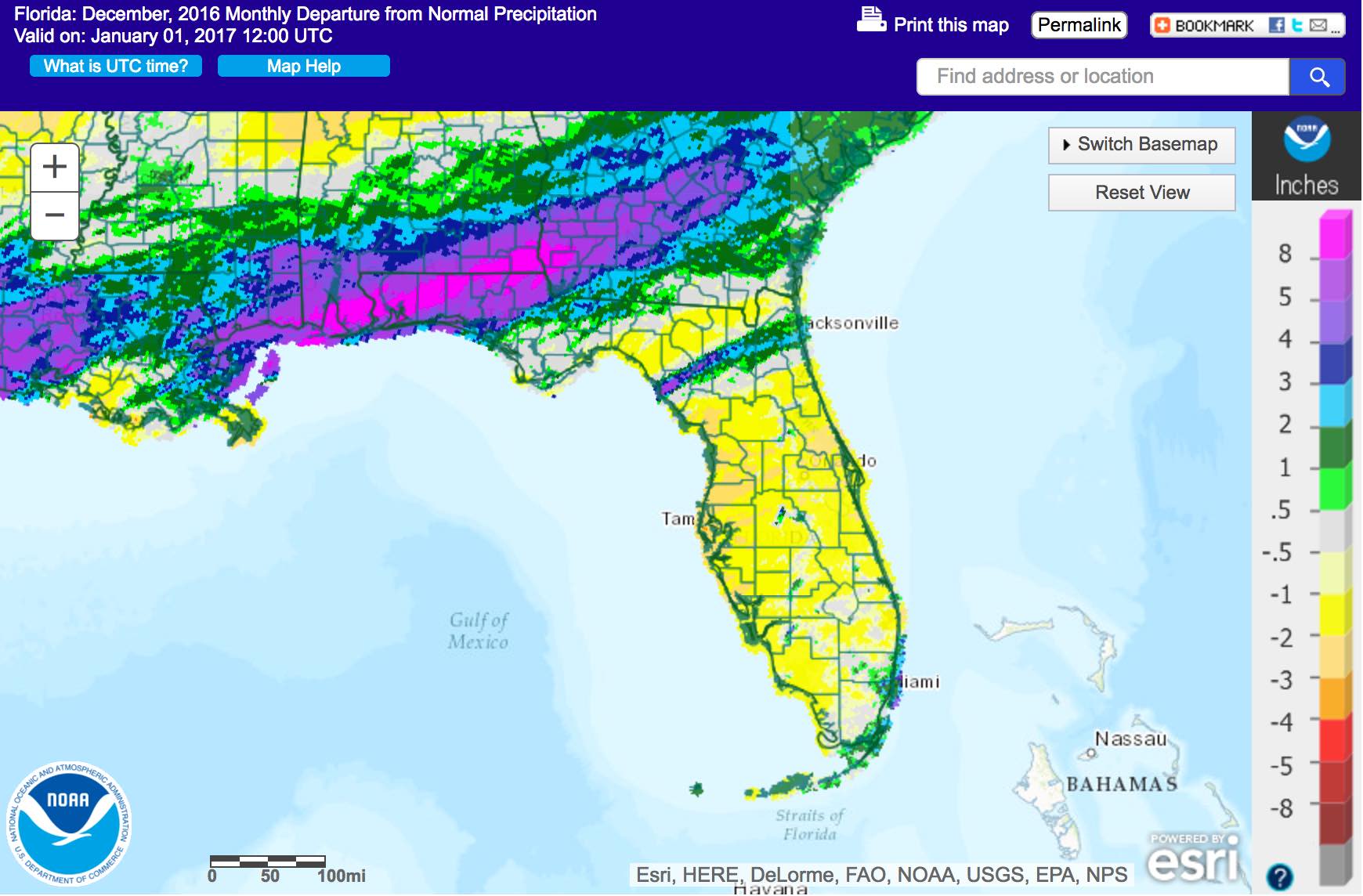 La Niña Conditions are Present in the Pacific.
Based on current data and forecast models, the Climate Prediction Center (CPC) will keep the ENSO Alert System at an La Niña Advisory. La Niña conditions are present, and sea surface temperatures (SSTs) continue to be below average in the central and eastern equatorial Pacific Ocean. Computer model predictions favor a transition to ENSO-neutral conditions sometime during Spring 2017. The CPC outlook for January 2017 through March 2017 favors below average precipitation and above average temperatures across the state.
Hazardous Weather Events in December.
There were a total of 33 severe weather reports made in Florida during December, making for a second relatively quiet month in a row (for a breakdown by event type see Table 4, compiled from data collected by the Southeast Regional Climate Center at http://sercc.com/lsr). The largest fraction of hazardous weather reports concerned high winds in the Pensacola area and along the Space Coast mid-day of December 6th. Lightning strikes were reported on the 4th in the western Panhandle, striking two different residences, and a fatal lightning strike was reported on the 13th in Escambia County. Dense fog with visibility under a quarter of a mile was reported in the early hours of 12th and 13th in several locations in South Florida.
Table 4: Breakdown of storm reports submitted in Florida during the month of December (Compiled from Southeast Regional Climate Center.)

Drought Related Impacts.
At the end of November, most of peninsular Florida was drought-free, and the Panhandle was experiencing abnormally dry to extreme drought conditions, generally worsening from the east to the west. Approximately 17% of the state was under abnormally dry (D0) conditions, 7% under moderate drought (D1), 10% under severe drought (D2), and another 7% under extreme drought (D3) conditions. Rains over the first few weeks of December significantly improved conditions in the western Panhandle, most notably in Santa Rosa, Okaloosa, Walton, Holmes, Washington and Jackson counties where D3 conditions were replaced with drought-free, or at most abnormally dry classification. At the same time, persistent rain deficits have led to abnormally dry conditions setting in most of peninsular Florida, with the exception of most of Dade and some of Broward and Monroe Counties. By the end of the month about 9% of the state is completely drought free, 77% is experiencing abnormally dry conditions, and 14% (including most of Bay, Gulf, Calhoun, Gadsden, Liberty, Franklin, Taylor, Suwannee, and Hamilton Counties, as well as portions of Escambia, Jackson, Wakulla, Jefferson, Madison, Columbia, and Baker Counties) is experiencing moderate drought. In all, the moderate drought conditions are affecting some 550,000 Florida citizens. The water level in Lake Okeechobee is down to about d to about 14.25', which is slightly below the long-term average value for this time of the year.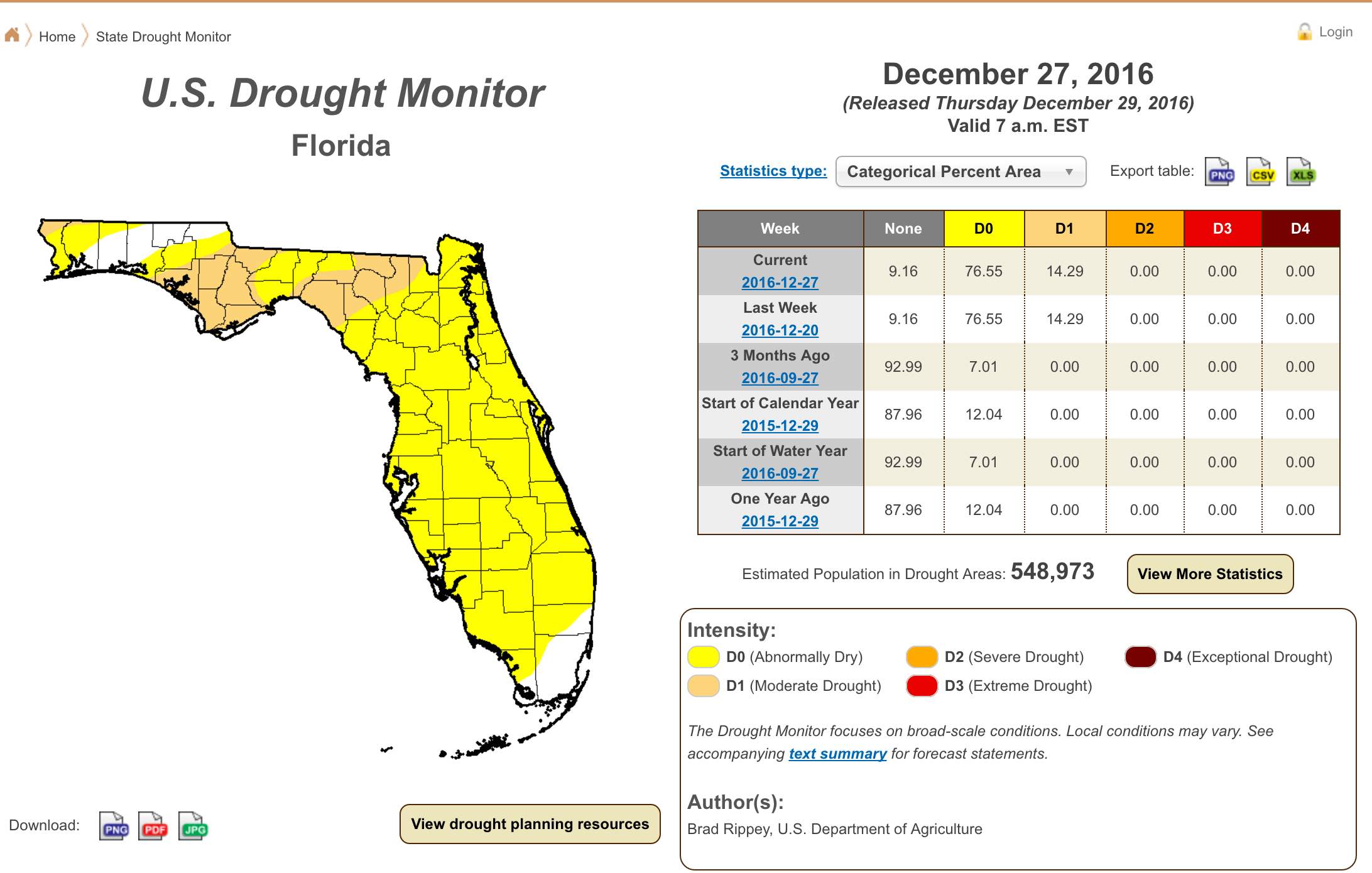 Agriculture Related Impacts.
At the beginning of December, topsoil moisture levels ranged from adequate (40% of soils) to short (25%) or very short (34%) values. As the month progressed, rains in the Panhandle delivered some much-needed moisture to the region, leading to an overall improvement in soil moisture levels. At the same time, peninsular Florida saw a deficit of rainfall and a reduction in soil moisture levels. In all, the month ended on a better note, with 47% of soils reporting adequate moisture levels, 33% - short, and 15% - very short. Temperatures across the citrus growing area have been very warm, and canals and ditches are at low levels because of low rainfall amounts over the past couple of months. Growers are irrigating frequently to provide sufficient moisture for the trees. Oranges and grapefruit are being harvested, and fruit quality is holding well. Sugar cane harvesting continues in southern counties. Planting of winter forage and cover crops, as well as harvesting of cotton and peanuts, that was previously delayed due to drought conditions was able to be resumed in some Panhandle counties following the improvement of soil moisture conditions. Cattle condition across the state remains mostly good despite the worsening of pasture quality. Most cattle are receiving supplemental feeding with hay.
.
Appendix 1: Additional December departures from normal data for Florida locations.

Appendix 2: Select daily maximum and minimum temperature records (° F) broken during December (compiled from NOAA, NWS).