Prepared by Lydia Stefanova, Daniel J. Brouillette, and David F. Zierden.
Florida Climate Center
The Florida State University
Tallahassee, FL

Average temperatures in August were above normal for most of the state. The departures from average temperatures in August 2017 were above normal across most of the state, ranging from -0.3˚F in Fort Lauderdale to +2.8˚F in Melbourne (Table 1 and Appendix 1). August 2017 was the warmest on record for Miami (for a second month in a row), 3rd warmest for Tampa, 5th for West Palm Beach, 9th for Key West, and 10th for Pensacola. Several temperature records were tied or broken across the state (Appendix 2).  
Table 1: August average temperatures and departures from normal (˚F) for selected cities.

Rainfall totals in August were mixed. Rainfall totals in August 2017 were above normal in the western Panhandle and along most of the Gulf Coast, and below normal along most of the Atlantic Coast (Figure 1). Departures from normal rainfall at major reporting stations ranged from -3.15" in Key West to +12.78" in Pensacola (Table 2 and Appendix 1). August 2017 was the wettest on record for Fort Myers, and the 2nd wettest for Pensacola. A few 24-hour precipitation records broken for the month (Table 3).
Table 2: August precipitation totals and departures from normal (inches) for select cities.

Table 3: Select daily rainfall records (inches) broken during August. (Compiled from NOAA, NWS).

Figure 1: A graphical depiction of the monthly rainfall departure from normal (inches) for August is given in the figure below (courtesy of NOAA, NWS)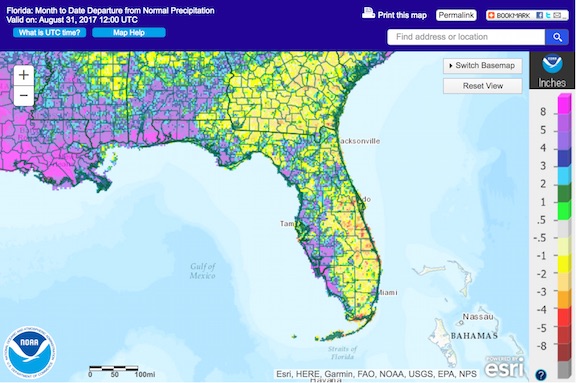 ENSO-Neutral Conditions are Present in the Pacific.   
Based on current data and forecast models, the Climate Prediction Center (CPC) the ENSO alert system is currently set to "Not Active". ENSO-neutral conditions are currently present, with sea surface temperatures (SST) near- to below-average across most of the central and eastern Pacific Ocean. ENSO-neutral conditions are favored to persist through the winter 2017-2018 season. The CPC seasonal outlook favors above-normal temperatures and above-normal precipitation for Florida through November 2017.
Hazardous Weather Events in August.
A total of 184 hazardous weather events were recorded in the NWS Local Storm Reports Database for August 2017.  The largest proportion of these was reports of high winds, followed by reports of flooding, heavy rain, and storm damage (see Table 4 for a summary). Several waterspouts were observed on various dates along the Florida Keys, and near Palm Beach, Flagler Beach, Cocoa Beach and Homestead. Funnel clouds were observed in Escambia, Flagler, Okeechobee, Osceola, Palm Beach, and St. Johns Counties. An EF-0 tornado was confirmed in the Lower Florida Keys and on the 11th in Indian River County. Thunderstorm wind gusts and wind damage were reported on multiple days throughout the month. Some of the highest reported wind gusts included marine thunderstorm winds with gusts up to 53 mph on the first of the month in parts of south Florida, and a gust wind of 61 mph near St. Augustine on the 9th. A strong downburst with estimated winds of 50-60 mph near Cape Canaveral on the 3rd peeled off a pier roof and caused three minor injuries. Roof and carport damage was also reported on the 18th near Cocoa Beach. Several reports of downed trees and powerlines were logged in on various dates, in Alachua, Baker, Bradford, Brevard, Duval, Gadsden, Jackson, Jefferson, Nassau, St. Johns, Union, and Walton Counties. Twenty-four hour totals exceeding 5'' were observed in Brevard, Miami-Dade, and Seminole Counties on the first of the month, and in Miami-Dade County on the following day and again on the 27th. Marion County reported 2.5'' of precipitation falling over a period of 30 minutes on the 18th and Palm Beach – up to 3.36'' in just over an hour on the 20th. Flash flood waters entering businesses and houses were reported on the first of the month in parts of Miami and Miami Beach, and in Collier County on the 25th. Flooding reports on various days throughout the month encompassed Baker, Broward, Collier, Duval, Escambia, Flagler, Putnam, Miami-Dade, and Santa Rosa Counties. These included street and road flooding and closures. In Collier, a person was rescued from a vehicle stranded in two feet of water on the 19th, and multiple vehicles were stranded due to flood waters on the 25th. Lightning reports through the month included three injuries (one in Miami-Dade and two in Santa Rosa County), and a handful of house fires (in Duval, Santa Rosa, and Volusia Counties). 
Table 4: Breakdown of storm reports submitted in Florida during the month of August (Compiled from Southeast Regional Climate Center.)

Drought-Related Impacts. 
The entire state was drought-free at the end of July, and remained drought-free throughout the first three weeks of August. As of the latest US Drought Monitor Report, issued on August 29th), a small area of abnormally dry (D0) conditions has appeared over the northern portions of Gadsden and Leon Counties. In all, D0 conditions are affecting about half of a percent of the state's area. 
Water levels in lake Okeechobee at the end of the month were at 13.54 ft., which is still below normal for this time of the year.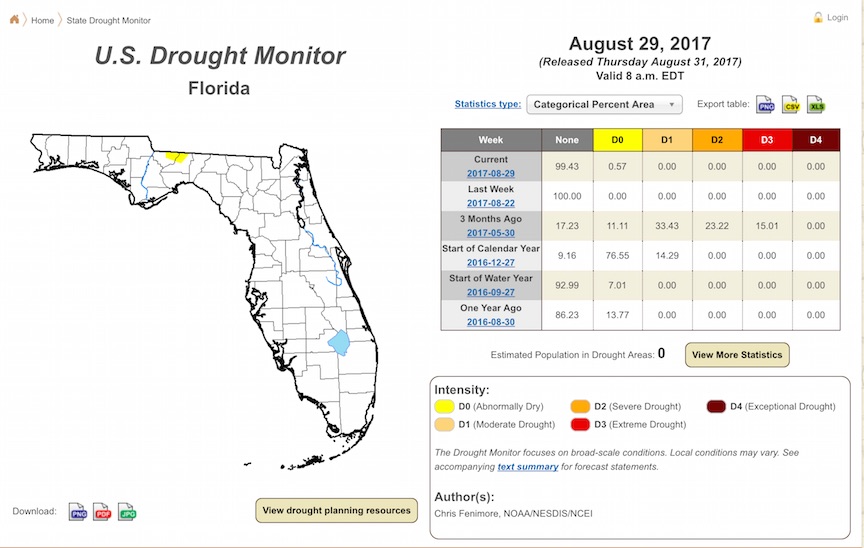 Agriculture-Related Impacts. 
By the end of July soil moisture levels were predominantly adequate.  Soil moistures remained at predominantly adequate levels, with some surplus values and a few short values present as well. The citrus area received sufficient rainfall throughout the month. A few areas that received less rainfall required some irrigation; canals and ditches in most areas have had sufficient water for irrigation. Overall the citrus crop is in good condition. Cattle and pasture conditions have held in mostly good condition in most parts of the state, thanks to the adequate rainfall and warm temperatures. Too much rain in Bradford County caused a problem for some cattle, and too little rain in Holmes County affected pasture quality.  Hay cutting in Bradford, Dixie, Lafayette, Levy, Suwannee, Taylor, and Volusia Counties was slowed down because of wet conditions. Disease pressure is becoming an issue for cotton producers in Holmes County and some peanut producers in Jackson County. Harvesting is underway for sweet potatoes in Madison County, for field corn in Jackson County, and for tobacco in Columbia and Lafayette Counties. Peanut harvesting has just begun in Dixie, Gilchrist, Levy, and Jackson Counties. Growers are reporting that sugarcane is in progressing well and is in good conditions. Vegetable growers in south Florida have been preparing fields for fall plantings, and have experienced some delays because of heavy rains.  
Appendix 1: Additional August departures from normal data for Florida locations.

Appendix 2: Select daily maximum and minimum temperature records (° F) broken during August (compiled from NOAA, NWS). **Indicates an all time record.