Prepared by Lydia Stefanova and David F. Zierden.
Florida Climate Center
The Florida State University
Tallahassee, FL

Average temperatures for August in Florida were mostly above normal. The average temperatures in August 2016 were above normal for most of the state, although some below-normal average monthly temperatures were also recorded. Average temperatures departure from normal ranged from -2.0˚F in St. Petersburg to +2.9˚F in Tallahassee (Table 1 and Appendix 1). August 2016 was the warmest on record in West Palm Beach, 2nd warmest for Daytona Beach, 3rd warmest in Tallahassee, 5th warmest for Vero Beach, 10th warmest for Tampa, yet also 10th coldest for St. Petersburg. Multiple maximum and minimum temperature records were tied or broken across the state in August (Appendix 2).
Table 1: August average temperatures and departures from normal (˚F) for selected cities.

Rainfall totals in August were varied across the state. Rainfall totals were above normal along much of the Gulf Coast and parts of Central and South Florida, and below normal for most of the northeastern portion of the state (Figure 1). Major reporting stations registered departures from normal ranging from -4.15" in Jacksonville to +7.11" in St Petersburg (Table 2 and Appendix 1), although localized parts of the state saw rainfall totals that were as much as 5" below normal to over 8" above normal (Figure 1). August 2016 was the wettest on record in Tampa and Ocala, and 3rd wettest in St Petersburg. Several 24-hour precipitation records were broken for the month (Table 3), some stemming from precipitation associated with the approach of the tropical system that eventually became Hurricane Hermine at the end of the month.
Table 2: August precipitation totals and departures from normal (inches) for select cities.
Table 3: Select daily rainfall records (inches) broken during August (compiled from NOAA, NWS).

Figure 1: A graphical depiction of the monthly rainfall departure from normal (inches) for August is given in the figure below (courtesy of NOAA, NWS).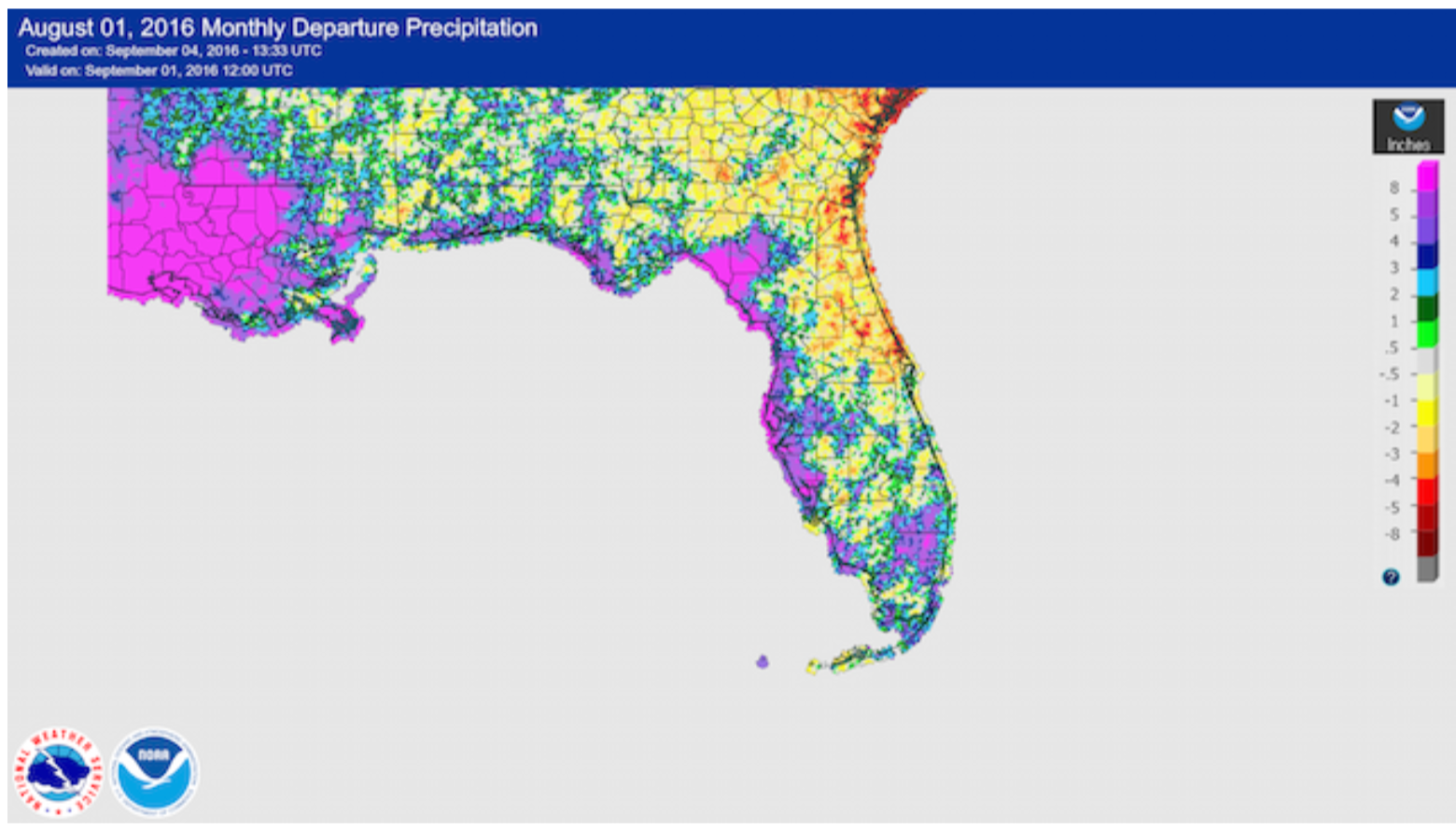 ENSO-Neutral Conditions are Present in the Pacific.
Based on current data and forecast models, the Climate Prediction Center (CPC) ENSO Alert System status is set to La Niña Watch. Equatorial sea surface temperatures (SST) anomalies in the east-central and eastern Pacific Ocean are near or below average. There is approximately a 55-60% chance for La Niña conditions during the fall and winter 2016-2017. CPC's outlook suggests an increased likelihood of warmer than normal temperatures for Florida for September through November 2016.
Hazardous Weather Events in August.
There were a total of 225 severe weather reports made in Florida during February. The bulk of these (208) were the result of just two cold front A total of 225 hazardous weather events were logged for August in Florida by the Southeast Regional Climate Center (see Table 4 for a breakdown by event type). The majority of reports were related to high winds. Of these, about half were related to the tropical system that eventually became hurricane Hermine by August 31. Localized thunderstorms and some instances of storm damage were reported at various locations throughout the month. Heavy rains and tidal flooding were an issue for residents from Sarasota to St. Petersburg on the 30th-31st. Earlier in the month, on the 4th, an EF-1 tornado with winds up to 100mph touched down in Nassau County on the 4th, causing damage to trees, power lines and homes, and overturning several vehicles. Multiple waterspouts were reported throughout the Florida Keys. Several lightning injuries were reported throughout the state on various dates, including two in Broward County on the 4th, one in Daytona Beach on the 14th, and in Orlando on the 16th; there were also two fatalities resulting from lightning strikes, in Okaloosa Island on the 5th and Sarasota on the 26th.
Table 4: Breakdown of storm reports submitted in Florida during the month of August (Compiled from Southeast Regional Climate Center.)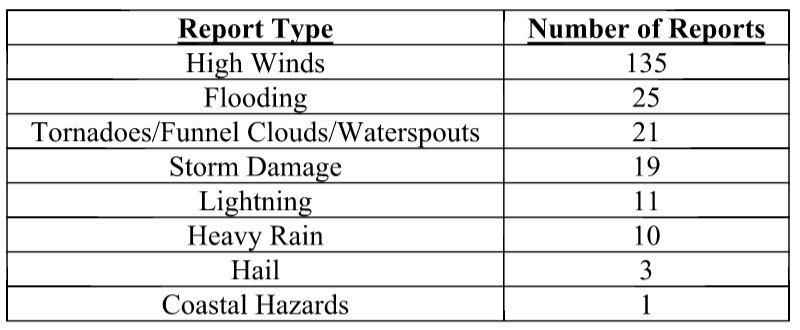 Agriculture Related Impacts.
Soil moisture conditions throughout the state have been mostly reported as adequate throughout the month, although some portions of the state (about 15-20%) are reporting short and a similar percentage are reporting surplus values. For most of the month the citrus growing counties were experiencing above normal temperatures and below normal rainfall, with some parts affected by abnormally dry conditions as defined by the US Drought Monitor. Most groves have required daily irrigation, and growers have been spraying against greening disease. Land preparation for fall fruit and vegetable planting is ongoing. Pastures and cattle have been in mostly good conditions, although pasture quality is beginning to seasonally decline as grasses mature. Some areas that have received large amounts of rainfall report standing water in pastures. Corn harvesting has been ongoing in the Panhandle. Cotton and soybeans were mostly in good condition although some farmers were reporting problems with fungus and insects. Peanut harvesting has begun in Lafayette and Gilchrist Counties, and anticipated to begin soon in Dixie, Levy, and Suwannee Counties. Sugarcane in Glades, Hendry, Lee and Palm Beach Counties is in good condition.
Drought Related Impacts.
At the beginning of August, most (83%) of the state was drought-free, while roughly 17% of the state (mainly northeastern Panhandle counties and along the Atlantic Coast) was experiencing abnormally dry (D0) conditions. Rainfall by the second week of the month lifted D0 conditions from Dade to St. Lucie Counties and most of the Panhandle. As the month progressed, new D0 conditions started creeping into the northeastern corner of the state (Clay, Duval, Flagler, Nassau, Putnam, and St. Johns Counties). As of the latest US Drought Monitor update (August 30th), approximately 86% of Florida was drought free, and 14% was affected by D0 conditions. Lake Okeechobee water levels at the end of the month were at 14.73 feet, which is above average for this time of the year.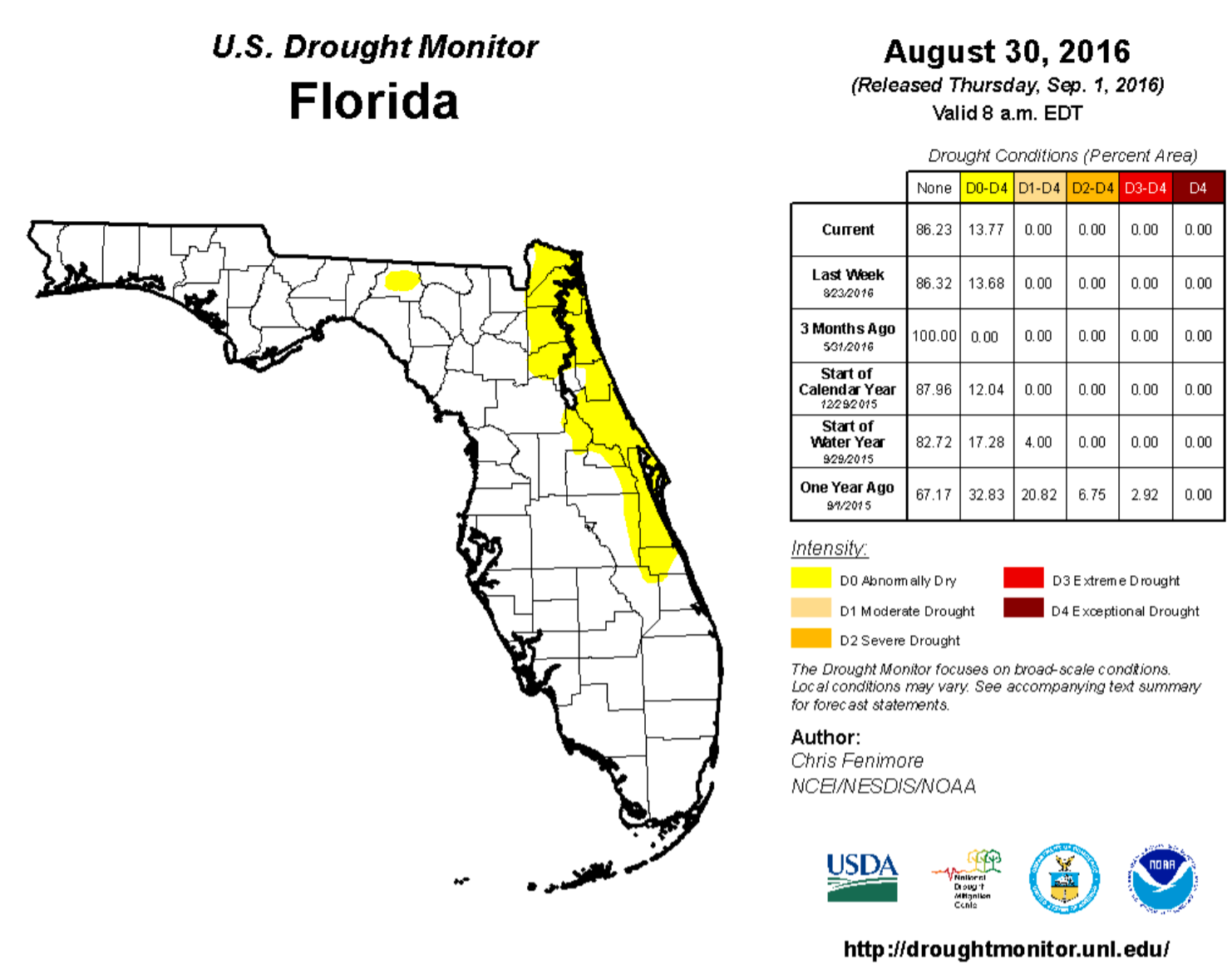 Appendix 1: Additional August departures from normal data for Florida locations.
Appendix 2: Select daily maximum and minimum temperature records (° F) broken during August (compiled from NOAA, NWS).