Prepared by Preston Leftwich, David F. Zierden, and Melissa Griffin
Florida Climate Center
The Florida State University
Tallahassee, FL

Average temperatures well above normal in April. Average temperatures were well above normal throughout the state in April (Table 1). Monthly average temperatures at West Palm Beach (80.2° F), Fort Lauderdale (79.1° F), and Miami (80.1° F) are the warmest on record at these sites for April. Nine daily maximum temperature records were tied or broken at Naples (Appendix). The maximum of 92° F at Vero Beach on the 16th tied a record in existence since 1944. On the 29th, the maximum temperature reached 95° F at West Palm Beach, breaking the record of 94° F recorded in 1923. Also, the minimum temperature (79° F) at West Palm Beach on the 28th is the warmest minimum temperature on record there during April.
Table 1: April average temperatures and departures from normal (° F) for selected cities.

Rainfall totals below normal in most areas in April. Rainfall totals for April were generally below normal across the state in April (Table 2). Although above-normal monthly totals were observed at Tampa and Miami, such totals were isolated (Figure 1). The monthly total at Miami was raised above normal by a record daily total of 2.58 inches that fell on the 29th.
Table 2: April precipitation totals and departures from normal (inches) for selected cities.

Figure 1: A graphical depiction of the monthly rainfall departure from normal (inches) for April is given in the figure below (courtesy of NOAA, NWS).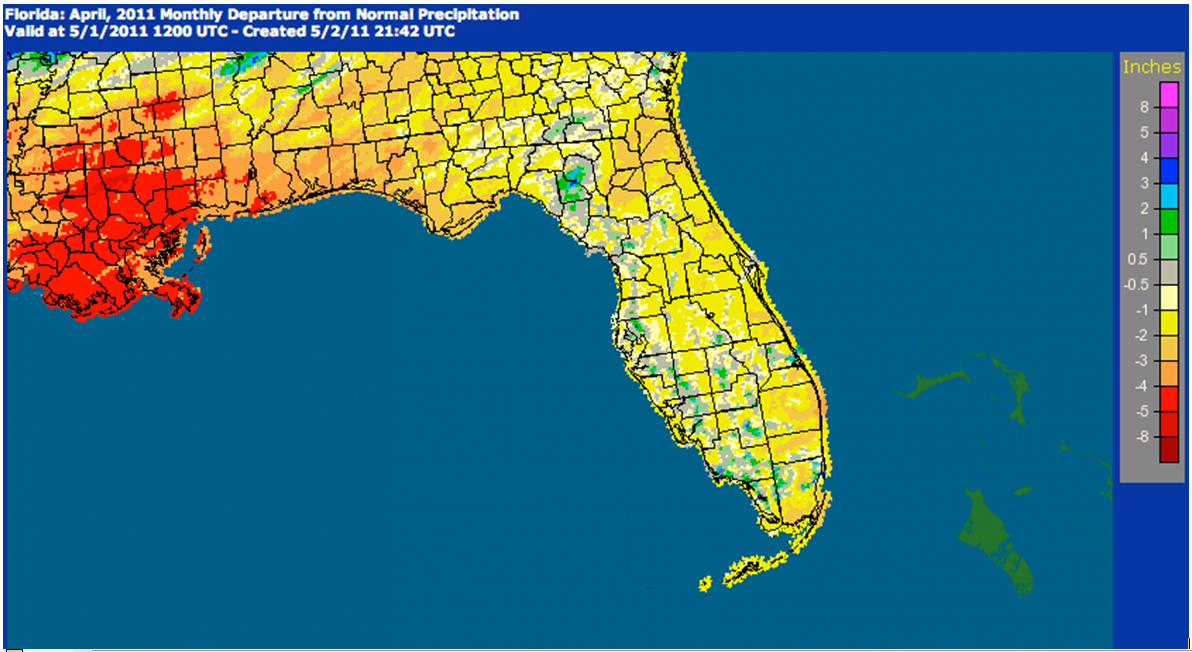 La Niña continues during April. Although sea surface temperatures in the equatorial Pacific Ocean continued to warm slightly during April, they continued below normal, denoting a weak cold phase of ENSO, or La Niña. Weather conditions continued as expected during a La Niña Spring.
Hazardous weather. During the early morning hours of the 4th, a strong squall line moved across northern areas. There were many reports of downed trees and power lines across the entire west-to-east extent of the state. Also, there were isolated reports of structures damaged by high winds or fallen trees. Wind gusts of 60mph were observed at Bonifay, and gusts up to 75 mph were observed at Perry. As the squall line continued to move down the state during the rest of the day, strong thunderstorm winds continued to produce damage. Wind gusts of 60 mph were recorded at Ormond Beach. Gusts of 59 mph were recorded at both Belle Glade and West Palm Beach. A tractor-trailer was overturned at West Boynton Beach, a trailer was overturned near Lakeland, and a house was damaged in West Melbourne. There were numerous reports of downed trees and power lines. On the 20th, golf-ball sized hail fell at Anthony, and ping-pong-ball sized hail fell near Ocala. Trees were downed near Archer, Newberry and Andalusia. Early on the morning of the 28th, a confirmed EF-1 tornado moved across Quincy Municipal Airport. Several airplanes were damaged and numerous trees were downed along a three-mile path. As a squall line preceded a cold front moving into the state, thunderstorm winds up to 65 mph downed trees and power lines near Tallahassee. Trees were blown down near Madison and power lines were downed near Dowling Park. Large hail, the size of a ping-pong ball west of Tallahassee, the size of a golf ball at Titusville and Buckhead Ridge, and the size of a baseball near Okeechobee, was observed. A wind gust of 62 mph was recorded at the Kennedy Space Center.
Agricultural and other impacts. Early in the month, widespread showers and above-normal temperatures helped the growth of early crops. Dry weather during most of the month aided the potato harvest and allowed fields to be prepared for the planting of cotton and peanuts. However, the dry weather and warm temperatures caused declines in pasture and leafy vegetables. Extreme drought conditions continued in the southeast. Water restrictions remained in place in Miami-Dade County. Severe drought remained in the northeast and extreme west. At the end of the month, only a small area around Tampa Bay was void of some degree of drought.
Appendix: Daily maximum temperature records (° F) tied or broken during April. (Compiled from NOAA, NWS)