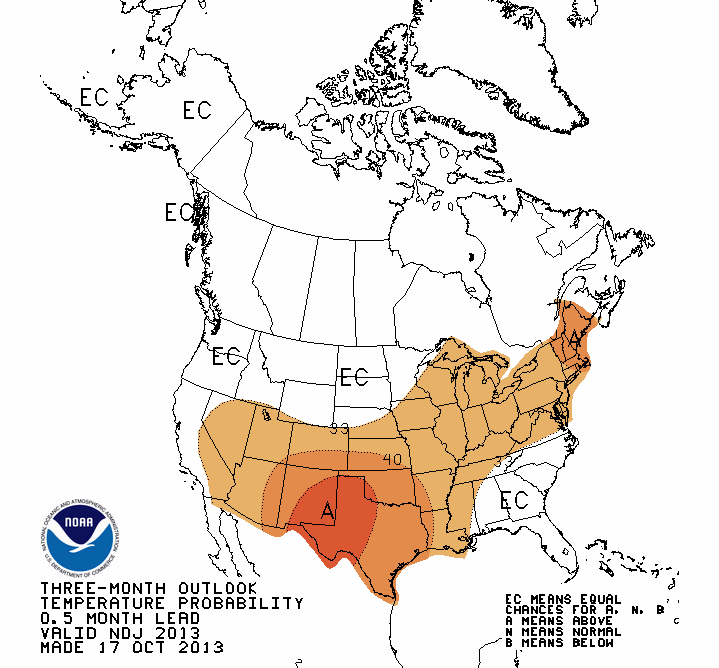 Image courtesy of
NWS Climate Prediction Center
CONTACT: David F. Zierden, State Climatologist of Florida
(850) 644-3417; This email address is being protected from spambots. You need JavaScript enabled to view it.
October 30, 2013
Download report in PDF format

or read the report below
Winter to be more variable in the Southeast, increased risk of damaging freezes
Weather patterns this year for the upcoming winter are prone to be more variable, with swings between warmer, colder, wetter, and drier periods throughout the season. The reason is that the Pacific Ocean is currently in the neutral phase; meaning sea surface temperatures near the equator in eastern and central Pacific Ocean are close to normal. Winter weather and climate patterns in Florida and the Southeast are heavily influenced by the El Niño/La Niña cycle, where ocean temperatures in the tropical Pacific swing between warmer than normal and colder than normal every 2 to 7 years.
El Niño refers to periods when the sea surface temperatures near the equator from the coast of South America all the way to the central Pacific turn unusually warm for a period of 6 to 12 months. The presence of this warm water tends to set jet stream patterns in place that usher frequent storms and rain to the northern Gulf Coast, Florida, and the Southeast Atlantic coast along with cooler temperatures. The opposite phase, or La Niña, describes a colder than normal sea surface in the same region of the Pacific Ocean. La Niña brings a pattern of warmer and drier winters to the Southeast, often leading to the development of drought.
With neither El Niño nor La Niña in place this year, the jet streams are freer to meander over North America, leading to greater variability in temperature and rainfall from week to week. When looking at the winter as a whole, the seasonal temperature and rainfall is likely to be close to normal. Instead of the odds being heavily tipped towards wetter and colder or drier and warmer, all possibilities are equally likely in a neutral winter.
(click on the header to expand)
Pacific Ocean to remain neutral through spring of 2014
Increase Risk of Damaging Freezes
Recent Conditions - Record Setting Summer Rainfall
Fall Drying trend